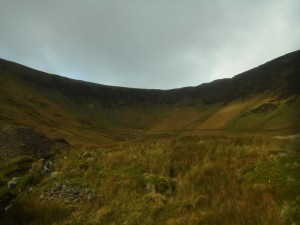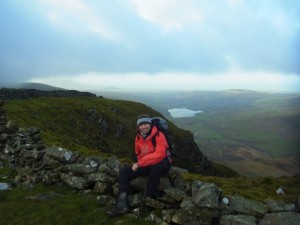 12.1.12
Walking with; Al
A beautiful, wild, windy day out in Snowdonia without another walker in sight. We parked up at the very picturesque Rhyd Ddu railway station, scenically set with Snowdon (hidden by cloud) as a spectacular backdrop.
We set out across very swampy land, before passing Drwyscoed Uchaf farm and starting the lengthy ascent towards the summit of Y Garn. Slippery conditions underfoot made it hard going, but the "view stops" looking back over the valley towards Snowdon provided welcome respite. The summit was blowy, but the vistas opening up with spectacular views towards the coast and Caernarfon Harbour made the initial ascent worthwhile. Looking West from the hilltop, the ridge lay before us, the clouds were scudding across the pass, but the wind kept them moving and we pressed on.
Following an excellent stone wall along the ridge with an exposed edge on one side, the wind hit us hard and with the rocks slippery from the frost and dew, the scramble up to the second peak of Mynydd Drws Y Coed was hair raising, but just the right side of exciting. The cloud was getting lower now in spite of the wind and after a third short ascent we hit the grassy plateau of Trum Y Ddysgl and assessed our onward/downward options. We'd initially planned to descend along the ridge to Bwlch-Y-ddwy-elor, a pass on the ancient route between Rhyd Ddu and Cwm Pennat, but in the distance the obelisk atop Mynydd-Tal-Y-Mignedd just proved too intruiging. The obelisk was reached via a narrow ridge with drop off views on both sides and a short, steep climb, sheltering in it's lee, we had lunch with magnificent views back to the coast and across the Snowdon range.
With frozen fingers and wind bitten cheeks we headed away from the obelisk and descended a very steep sheep path into the Afon Dwyfor valley (Valley of the Big Holy River) where we made our way through the abandoned, and by know quite ruined, copper mine workings before the steep ascent following sheep tracks up the marshy slopes with only circling ravens and the spectacular, sunlit views down the valley as distractions. Finally reaching the Bwlch-Y-ddwy-elor pass we headed down into the dense pine of the Beddgelert Forest where a sole mountain biker proved we were moving back towards civilisation. The path wound through the forest and spat us out back on the A4085 where we followed the railway line back to our parking spot enjoying magnificent views of the Llyn y Gader lake nestled in the shadows of Y Garn.
To view the full photo album please visit the link below