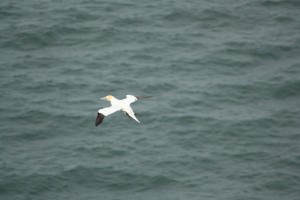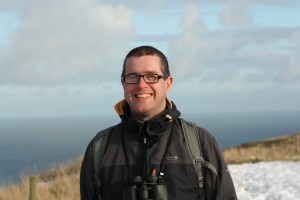 12.2.12
Walking with;Ruth
I thought the perfect walk for a rehabilitating knee would be a nice gentle stroll along an East Yorkshire coastal path with the chance to observe a few early season seabirds as a decent bonus. A walk was necessary after nearly a month of inactivity not to mention some superb Haddock and Chips in Bridlington and a Mixed Grill at The Ship Inn in Dunstall that would have stopped a lion in its track such was the ferocious amount of meat piled high on my plate. The only fly in the ointment for this plan was that snowfall during the week, coupled with Arctic winds whistling in off the North Sea had covered the path with a freezing, slushy mess, none-the-less we pressed on undeterred.
Bempton Cliffs is a flagship RSPB reserve and between April and August over 200,000 seabirds including Puffins, Guillemots, Razorbills, Gannets and Fulmars nest on the cliff faces of this spectacular headland. We were a little early in the year,but there were numerous Gannets flying in squadrons of four or more, and plenty of fulmars surfing the freezing thermals (if that's not a contradiction in terms)! The walking was good, the path wound along the cliff top very close to the edge and with conditions underfoot slippy, concentration was required.
On the other side from the cliff edge the ruins of RAF Bempton stood stark against the skyline and provided a moody and atmospheric backdrop for our expedition. RAF Bempton was first set up during World War Two as a GCI station and soldiered on in various different forms until it was eventually closed in 1972. Whilst the area is sealed off it looked well worth an exploration and had a distinctly "ghost townish" feel about it.
Anyway, the knee survived in spite of a few skids and slips and will hopefully be ready for some more adventurous walks over the next week or two. Come Walk with Me is back on track!
To view the full album please click on the link below;