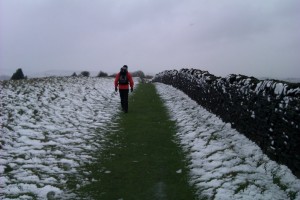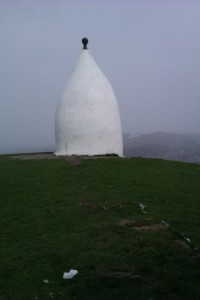 4.4.12
Walking with; Al
Well, the plan was to ascend up to the highest point in Cheshire, Shining Tor, from the Errwood Reservoir in the Goyt Valley. After the week of glorious sunshine we felt sure the views from the top would be stunning as the beautiful Cheshire countryside stretched out before us. However, Mother Nature had slightly different plans and send us an unseasonal Easter blizzard. We were well equipped and still eager but as each narrow road we tried was blocked by snowdrifts or was already too slippery to make safe progress plans changed and, unwilling to head back for a brew just yet, we decided on the classic Bollington walk, a quick jaunt up to White Nancy!
White Nancy is a folly built in 1817 for John Gaskell jr, allegedly to celebrate the victory at the Battle of Waterloo. It is believed that the structure was originally built as a Summer House and although it isn't possible to enter it now, there are a stone seat and table inside the folly. Over the years Nancy has endured a number of disguises including been painted pink and also as a Christmas Pudding, however today she was brilliantly white and a beacon for us as we climbed out of Bollington.
As we ascended the steps we could see the snow lying on the hills and as soon as we broke cover the wind hit us blowing horizontal sleet and snow which was blasted against any surface in the way (including us). We continued on along the Saddle of Kerridge trying to make use of stone walling for some shelter but were grateful once we started to drop off the ridge and down towards Rainow out of the teeth of the wind! The weather however was pretty unrelenting and we decided to double back to Bollington over the Saddle and down past the impressive Endon Hall built in 1840 and with a Grade 2 listed stable block. Bollington as well as boasting an excellent brew pub, The Vale Inn, also boasts a couple of very good bakeries and a sausage roll and bakewell tart later, the aborted expedition of the day had been long forgotten!
To view the full album please click on the link below;