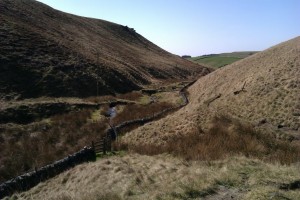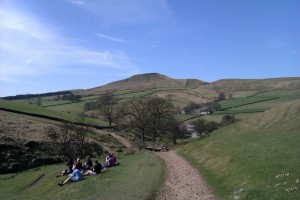 26.3.12
Walking with; Dave Swetnam of the Peak District Rangers
Well my second day out with the Peak District Rangers showed the diversity of the role and the conditions that might be experienced. My first visit had included a blizzard on Kinder, today the temperature was 20 degrees and it was warmer than Southern Spain. We started out from Trentabank passing the heronry where up to 22 Grey Heron nests can be found and where there were a pair of Great Crested Grebes swimming in and out of the reeds. The path climbed up through Macclesfield Forest and then out across Piggford Moor towards the distinctive Shutlingsloe peak. Although it was early the peak was already busy with walkers and after we paused to enjoy the 360 degree views out towards The Roaches, Jodrell Bank, Macclesfield and up to the Cat and Fiddle, we headed on towards Cumberland Brook.
Cumberland Brook runs down through the Danethorn Hollow and is a gorgeous tree lined waterway at the bottom before. I kept an eye out for Dippers but no luck today. There were plenty of sun traps perfect for lunch and after some sustenance we continued the slow, steady climb to the Cat and Fiddle, disturbing a couple of grouse en route. Approaching the pub(
http://www.catandfiddleinn.co.uk/
), it was heaving with bikers and motorists and we continued on down the permissive path towards Torgate Farm, a popular campsite for the Duke of Edinburgh expeditions. In contrast to the tops, this path was quiet and as we followed the stream down towards the farm we didn't see another soul. Dave mentioned a few of the projects the Rangers had worked on in that area including drainage works and laying down duckboards.
We passed through the tiny hamlet of Bottom of the Oven (named for Oven Lane) home to the also busy Stanley Arms (
http://www.stanleyarms.com
) before climbing up the steep, stony, bilberry lined track to Forest Chapel where we stopped for a walk around the beautiful church and took advantage of the porch for some shade. Avoiding a group of off road bikers we continued back into the forest and followed the shady track back down to the Rangers Centre at Trentabank for another view of the Herons and a welcome cuppa.
To see the full album for the day, please click on the link below;