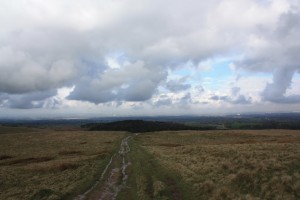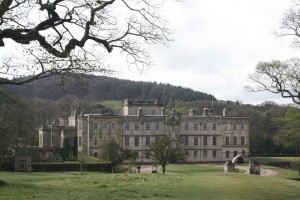 12.4.12
Walking with; Nobody
When I first moved to the North West one of the first places I visited was Lyme Park and it's remained a firm favourite ever since whenever I get the itch for a few miles. The house itself is the largest in Cheshire and is Grade one listed. It was built in the latter part of the 16th Century and modified in the 1720s by Giacomo Leoni and then by Lewis Wyatt in the 19th Century. The Legh family gave the house to the National Trust in 1946 and more recently it found fame as the "Pemberley", Mr Darcy's house in the BBC adaptation of "Pride and Prejudice" by Jane Austen.
I started out in Disley and made my way towards the Park before beginning the slow ascent towards The Cage, originally built as a hunting lodge and commanding 360 degree views including a herd of Fallow Deer. Bypassing the house I started out on The Gritstone Trail and climbed steadily through Knightslow Woods and out onto Park Moor. The path leads up to the Bowstones, remnants of an Anglo-Saxon cross before following a ridge with beautiful views across the Peak District. It was clear and I could see snow on the slopes of Kinder as well as views all the way to the distinctive profile of Shutlingsloe in the South. It was muddy underfoot but the walking was easy and there were plenty of new lambs and a couple of buzzards to keep me entertained. I dropped down towards Pott Shrigley and then started another climb up Bakestonedale Moor which had great views across to last weeks walk on White Nancy and the Kerridge Saddle. Dropping down past Moorside Quarry I continued down to re-enter Lyme Park at the West Gate and climbed the track through Pursegate Woods which had a few late bluebells and a plentiful supply of Wild Garlic coming through and making the lower half of the track smell like an Italian restaurant.
It started to rain as I reached the carpark and I was regretting my decision not to park on site, but as I pottered on towards Disley I was rewarded with some fantastic views of the stormclouds hovering over Kinder which made the last half mile in a torrential downpour almost worth while!
To view the full photo album please click on the link below;