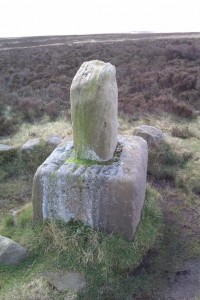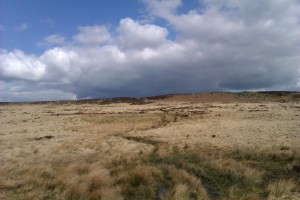 15.4.12
Walking with; David from the Peak District Rangers
The last of my pre-visits with the Rangers took me out towards Sheffield to the village of Grindleford. The Rangers are based at Brunt's Barn named after Harry Brunt, a Deputy National Parks Officer. The office sits just down a track from Grindleford station and the very popular cafe (
http://www.guardian.co.uk/travel/2009/may/12/railway-station-cafes-uk-food
) which was already thronged with bikers when I arrived. Grindleford was an important point on the packhorse routes which carried salt between the Cheshire salt mines and Sheffield and other Northern cities. In 1588 two Catholic priests were discovered hiding in the village and were executed in Derby, the two, Nicholas Garlick and Robert Ludlum, became known as the Padley martyrs and a chapel in their memory sits next to the office.
We set off climbing steeply from the valley floor and following a stream up through Oak's Wood onto open moorland with fantastic views towards some of the many gritstone edges in the area. We continued onto White Edge Moor where there was plenty of evidence of the old packhorse routes that crisscross the tops round here. The most well known example is the Lady's Cross which stands on the moor and details the ancient routes taken to Sheffield. Our route continued to the outer reaches of the Longshaw Estate and included some great views of a herd of Red Deer silhouetted on the horizon. We carried on to Greaves's Piece and then along the narrow wooded valley beneath Hewetts Bank where other waymark crosses could be seen. We had lunch on the edge of Leash Fen, an expanse of marsh and (reputedly) the site of a village that sank beneath the bog and is immortalised by a local rhyme;
When Chesterfield was gorse and broom,
Leash Fen was a market town,
Now Chesterfield's a market town,
Leash Fen is but gorse and broom.
There was no evidence of a Peak District Atlantis so we continued past a stone circle and over Bar Brook onto the wild top of Big Moor. There were more deer, Curlew, Buzzards and Kestrel as well as a herd of magnificently shaggy Highland Cattle. The Eastern Moors Partnership (RSPB and National Trust) have removed sheep from various areas of the moorland to see how the foliage regenerates and there was already clear evidence of this which made the walk across the tops hard work. Eventually we reached the White Edge Trig point and dropped down off the edge towards Stoke Flat. We followed the wooded fringe of Froggatt Edge up to Tumbling Hill where we had some great views back down to Grindleford before heading back to Brunt's Barn.
To view the full photo album for this walk please click on the link below;