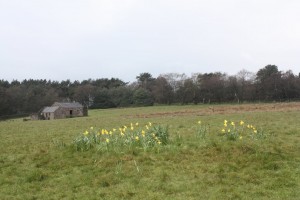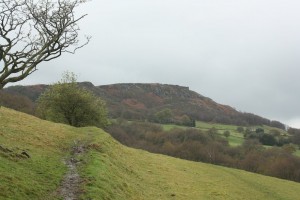 19.04.12
Walking with; Nobody
The pastoral heartlands of Cheshire have not been very productive walking territory lately, after the electric fences and Somme like mud of Alderley Edge, I pitched up in the hamlet of Timbersbrook only to find my proposed route closed due to dangerous trees and no alternative offered. None the less after a quick re-evaluation I decided to head up to the local landmark hill known as The Cloud which sits at 343 metres and commands fine views of the area. Timbersbrook was once the site of the Silver Springs Bleaching and Dyeing Factory and also has a history of Silk Mills using the clean waters of the stream. However it is now a small, quiet hamlet and the car park is next to a beautiful picnic spot.
From Timbersbrook, I started the short, steep climb through woodland to Gosberryhole Lane. It was chucking it down with rain but as I left the lane and ascended onto The Cloud the view out across the Cheshire Plains were still pretty spectacular. On reaching the Trig Point Shutlingsloe was visible in the distance as was Rudyard Lake (after which Rudyard Kipling was named) and I had great views of a hunting Kestrel and a pair of Pied Wagtails. The Cloud is composed of Chatsworth Grit and covered with heather and would make an excellent spot for a Summer picnic. I continued on the Gritstone Trail towards the Dane Valley through fields of new born lambs and with conditions becoming increasingly muddy and slippery underfoot.
Ravensclough Brook is a spectacular gorge and the narrow wooded path followed its course before dipping down towards the River Dane. I saw a pair of Goldfinch and there were the remnants of what must have been some spectacular bluebells. After following the river for a short while I struck out up the hill towards Peck's House putting up a pair of handsome Pheasants. Road walking isn't always the most edifying activity but in this part of the world where the only traffic I came across was a tractor and a pair of Mallard and the Hawthorn hedges were coming into bloom it was far from unpleasant. I followed a couple more small lanes passing by Cloud Side shooting centre before climbing back up to the Cloud plantation and retracing my steps back to the car and out of the rain!
To view the full album for this walk, please click on the link below;
https://www.facebook.com/media/set/?set=oa.199666120152301&type=1