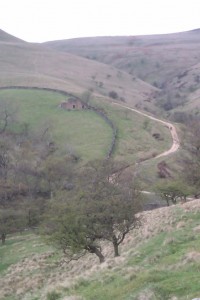 3.5.12
Walking with; Nobody
Split shifts are not my favourite thing, but the advantage of working in Castleton is that given a spare five hours between cleaning dormitories and cooking dinners there is some magnificent landscape out on my door step. Last week from Lantern Pike I'd had fantastic views across towards Kinder and South Head, so this week I decided to head up to South Head and return the compliment.
I parked up on the layby on the road between Castleton and Chapel-En-Le-Frith and set off on the Pennine Bridleway. One of the advantages of this route was that the intended target, South Head, was in view all the way making it easy to gauge my progress. The Bridleway is rough but easy walking in spite of the ups and downs, however it is very busy with a variety of horse riders, off road bikers and a lot of mountain bikers (most of whom seemed to be gentlemen of a certain age clad in lycra and in the midst of some kind of mid-life crisis involving throwing themselves down the hill at high speed……..). The path dropped down to a valley floor where a stream crossed it before the long but steady ascent to the boundary of the High Peak. The last 100 metres is straight up, very steep and provides magnificent 360 degree views stretching for miles. Maybe it was because of the steepness of the last ascent but I had the summit to myself and nestled down in the lee of the cairn for a sandwich and drink and the spectacular vista of Mount Famine and Kinder Scout. I returned the same way but there is serious potential to head onwards from this spot.
So, split shifts may not end up being too much of a bad thing in the end as the accessibility of this kind of spectacular countryside from my (workplace's) doorstep is a real boon almost worth the one hour each way commute! I get the feeling this could become a regular lunch spot!
To view the full photo album for this walk please click on the link below;