4.9.12
Walking with; The Pendle Walking Festival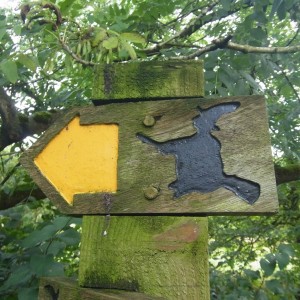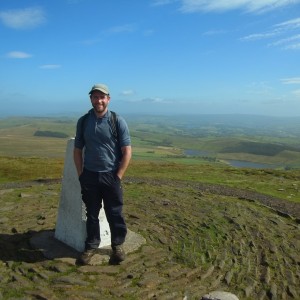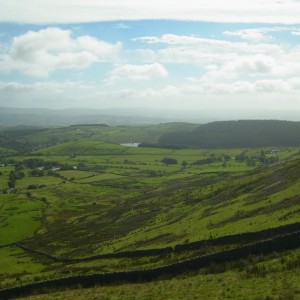 Walking Festival walking is of a very different kind from lonesome wandering. Whilst the freedom to stop at will and change direction on a whim is restricted, there is no need to constantly refer to a map or to worry about pacing, the walk leaders can generally provide useful local information and there is the opportunity to talk to other like minded souls. Pendle claims to be the UK's largest free walking festival and there are certainly events to suit all interests and abilities (see link for details)http://www.visitpendle.com/countryside/walking-festival.
As I have previously mentioned Pendle's main claim to fame is the Witch Trials that took place 400 years ago in 1612 where 12 alledged witches were tried and 10 executed. The region trades heavily on these events and part of the walk today followed The Pendle Witches Trail. We were seen off on our walk by the Lord Mayor of Pendle, not an everyday occurence, and one which made me wish I'd cleaned my boots! We set off along the banks of Pendle Water and headed through cow-tread boggy farmland (which made me glad I'd not bothered to clean my boots) with Old Pendle looming large in the distance. The appeal of Pendle is the way it rises from the flat valleys and troughs and dominates the surrounding landscape, a huge expanse of rock that just demands to be ascended! We passed between the Black Moss reservoirs where a number of fly fishermen were chancing their arms without any noticeable success that I could see. Conversations was batted back and forth within the group, "Where are you from?", "Where have you walked?" etc and tales of the witches were told as well as modern day tales of angry farmers tearing down 2012 witch memorials on the hill!
The sun came out for the ascent, a blessing or a curse? It made the climb pretty tough but the views from the top were fantastic, stretching out across the Lancashire countryside. A breeze cooled lunch, most of which I spent evading sandwhich scavenging sheep, provided beautiful views of Swallows and House Martins wheeling and swooping and keeping the midges down! We crossed the marshy tops, scruffy heather and black peat, on a fine flagstone path that very much reminded me of last weeks wander down The Pennine Way from Black Hill. At the foot of the hill, the vast expanse of moorland on top remains invisible, but once on top the summit spreads for miles and we crossed it to the head of Ogden Clough and began to folow the Clough towards Barley. Ogden Clough is not uninteresting but nor does it change much from top to bottom and the narrow goat path we followed ensured that eyes were directed firmly towards where feet were put rather than the scrubby surrounds. The clough ends in two more reservoirs and the path from there descends into the picturesque village of Barley where our numbers fraternally co-mingled with a group of French hikers, including a very fine gentleman with feathered beret!
Barley is a pretty spot with a fine cafe. United Utilities during excavations uncovered an almost complete 17th Century cottage complete with cat skeleton which it has been suggested may have belonged to one of the accused Pendle witches……The route from Barley back to Barrowford is a low level meander partially following Pendle Water and with fantastic views back to Pendle Hill. I saw a nodding, twitching Dipper and a pair of Grey Wagtails, before we were spat back out into Barrowford and urbanity and made our way back to our cars. Barrowford is home to the Pendle Heritage Centre, a beautifully maintained park and "The White Bear" pub where (before it was a pub) Methodist preacher and reformer John Wesley was forced to take shelter from an angry mob. All of these deserve a return and further exploration.
Whilst the walk was conducted in the glorious sun of an Indian Summer, there were some distinctly Autumnal hints. The rose hips and rowan berries are out, leaves are starting to turn and as we came through Barley, schoolchildren were emerging from the local Primary for the first time for many of them!