4.10.12
Walking with; Nobody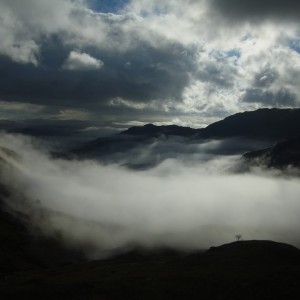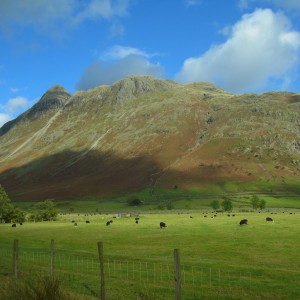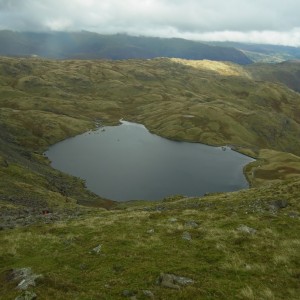 Definition of PIKE
dialect English
: a mountain or hill having a peaked summit —used especially in place names
Origin of PIKE
Middle English, perhaps of Scandinavian origin; akin to Norwegian dialect
pīk
pointed mountain
First Known Use: 13th century

As I sat in Windermere Youth Hostel trying to drown out the din of a school group involved in noisily debating the merits of their quiz answers, I poured myself a glass of Jennings fine Cockerhoop beer and fell to reading, as one does in these situations, an ancient back edition of "TGO" or "Trail". A feature caught my eye on the differing names for mountains in the different parts of the UK and I read on intrigued by the world of Fells, Pikes and Tors. It hardened my resolve to visit Langdale the next morning and take in a round including both the Pikes of Blisco and Stickle!
I parked at Blea Tarn and managed to time my setting off to perfectly coincide with a shower, but the views back to the Pike of Stickle were already spectacular. Striking off towards the Wrynose Pass the ground was sodden and water was running off the mountain but as I climbed the road I emerged out of cloud as I started to ascend the back of Blisco. The cloud inversion was spectacular, one of the best I've ever seen (up there with Alp D'Huez and the Queen Charlotte Track in NZ) and once I was through it the Pike of Blisco sat bathed in sunlight. The wind on the top was strong and chill so after a brief consultation with the map I left my fellow summmit baggers and descended to Red Tarn and then down, down and still further down in the shadow of Great Knott to the valley floor where my screaming knees were finally rested. I proceded into Mickleden and began the long, slow ascent up Stake Pass where I stopped for refuelling with a great view of Blisco across the valley. I continued on to Martcrag Moor, defined by Wainwright as demarcating the edge of the Central Fells and, today (and I suspect everyday), very heavy underfoot. As I tramped ever forward I was met with more rain and then a rainbow as I climbed up towards the Pike of Stickle. The rain had left the rock very greasy and a few would-be summiters were turning back but I slid and scrambled and as much by luck as judgement ended up alone on the top with views of my whole route so far and onto Windermere in the distance.
Harrison Stickle awaited and then onwards downhill, with more creaking knees, to Stickle Tarn, sat in the magnificent shadow of Pavey Arc. The path down Stickle Ghyll showcased a pair of Raven and some beautiful, vibrant Rowan berries but was very slippery and I was glad to reach Langdale and the Dungeon Ghylls once more. Tempted as I was by a pint in either of the esteemed hotels I pressed on below Side Pike and back along the atmospheric shores of the tarn. Post walk refreshment had to wait until "The Britannia Inn" in Elterwater, but the wait was very well worth it!
To view the full photo album please click on the link below;
https://www.facebook.com/groups/136991043086476/#!/media/set/?set=oa.279299808855598&type=1