29.10.12
Walking with; Al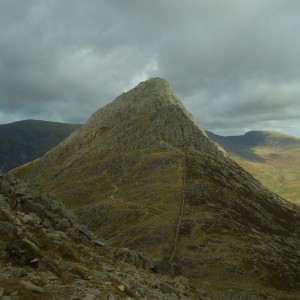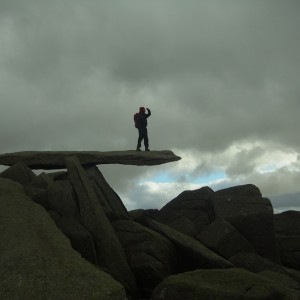 A last warm up walk before heading off on my Mountain Leader Training course and what a cracking day it proved to be. Tryfan is one of those iconic mountains that really look the part, the Matterhornesque summit of the type that kids sketch when asked to draw a mountain. Tryfan is the fifteenth highest mountain in Wales at 915 metres and is topped by the twin rocks of Adam and Eve, neither Al nor I nor any of the other sumiteers whilst we were there attempted the leap between these two biblically named pillars and I tip my hat in salute to those of you brave enough to have done this.
We set off from Llyn Idwal and soon began the climb/scramble up the North face. Whilst there is theoretically a path it wasn't long before we had given up following it and as we picked our way through the rocks and gulleys it was easy to see how in poor visibility it could prove to be tricky. We found the Cannon Stone and posed for an obligatory photo although the rock is now worn smooth and there isn't a lot of grip left, so instead of noble "yonder, the Ogwen valley" shots, mine looks like a drowning man clinging to a life raft! We continued to pick our way through gullies, scree slopes and up the odd body contorting scramble until we reached the top, Adam and Eve and some spectacular 360 degree views to enjoy with a coffee and flapjack!
Looking across to Glyder Fach the unpromising scree slopes threatened an arduous, strength sapping ascent, but as we dropped into Bwlch Tryfan a fellow walker suggested Bristly Ridge as a more interesting route. Wow!! One of the highlights of this busy year in the hills and mountains. Www.ukscrambles.co.uk describes Bristly Ridge as "an absolute classic scramble, the best Grade 1 in Wales without any doubt", and who am I to disagree……..It was a truly exhilirating half hour or so, nerve racking, exciting, challenging and fun and I emerged onto the wind blasted summit of Glyder Fach grinning like an overdosed adrenalin addict. The name Glyder is believed to be derived from the Welsh word gludair meaning heap of stones and the exposed summit is strewn with rocks not least the Cantilever Stone (another essential photo stop) and the spectacular formation of Castell Y Gwynt or the Castle of the Winds, both these features were used in the Disney film "Dragonslayer" and certainly the place has a fantastical feel to it. Circumventing the Castle we headed onto Glyder Fawr, our highest peak of the day which our map told us was an agonising 999 metres, however in late 2010 it was resurveyed and is now believed to top out at 1000.8 metres! http://www.bbc.co.uk/news/uk-wales-north-west-wales-11375937. Either way it is the fifth highest peak in Wales and whilst not as pretty as it's sister still affords incredible views across to Angelsey.
Our descent from here was hard on the knees, skidding down the scree towards Llyn Y Cwn and then taking The Devil's Kitchen path down towards Llyn Idwal. By the time we got to the bottom the clouds were scudding across the top of Tryfan and it was fantastic to be able to trace our whole route behind us. Definitely one of the best days our of the year so far!!!!
To view the full album please click on the link below;
https://www.facebook.com/#!/media/set/?set=oa.292351124217133&type=1