Walking with; Nobody
28.01.13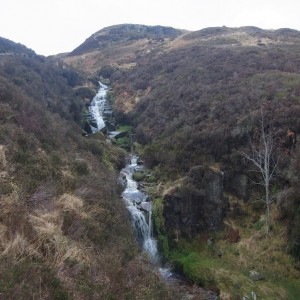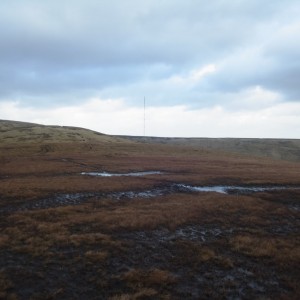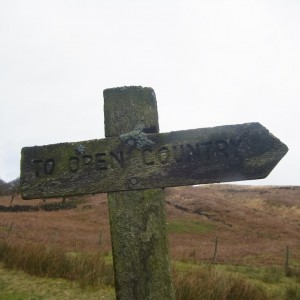 When I think of the Dark Peak, I tend to think about the "Big three", Kinder, Bleaklow and Crowden/Black Hill, but I do seem to neglect the latter. It doesn't have the mystery of Bleaklow with it's low hanging fog and aircraft wrecks (although it does have a few up there) or the history of Kinder and the tresspass, but it does have the Great and Little Brooks, Laddow Rocks (where the original members of The Rucksack club climbed and put in place the foundations of the modern Mountain rescue service) and miles of barren moorland. I wanted a bit more navigation work and figured miles of barren moorland met that criteria so away I went, passing the YHA before crossing Crowden Brook and making my way up to The Pennine Way. There were Pheasant and Grouse about and I heard Ravens at least twice on my walk. I ascended slowly until I reached Oakenclough Brook tumbling down off Rakes Moss,then instead of re-treading the next section of the Way, I decided to follow a narrow track contouring along the valley and below Laddow Rocks before emerging back onto the Way opposite the magnificent rock formations known as Castles.
The path crisscrossed the brook before the distinctive paving slabs showed me the way towards the distant Black Hill. I'm always struck at how vast the expanse of moorland is up there, miles of nothingness giving the lone walker the occasional chill down the spine especially when the mist starts to drift in…….Visibility remianed pretty good though so I struck off in an easterly direction, locating the pond at Sliddens Moss before continuing on the rough, broken up, tussocky ground in the direction of the ever visible Holme Moss Transmitting Station. The groughs were still full of snow and I set off a Mountain Hare in it's beautiful white coat, he made my progress across the moor look decidedly clumsy and he bounced and bounded away from me. I eventually made my way up on to Tooleyshaw Moss and searched for the remains of the original route that the Pennine Way took. The wind had gotten up by this point and the dark clouds that had hovered over Bleaklow began to scud in my general direction incentivising me to pick up my pace as I slip slid through the peaty bogs and mossy marshes from White Low and across Westend Moss. The squall when it hit did so with the kind of malevolence a disgruntled Nordic God might have used to show his power over mere humans and I was soaked before I'd even got my waterproofs out of my rucksack……luckily it was over as quickly as it started and I wandered the remaining path back to the hamlet of Crowden (the most Northerly settlement in Derbyshire) without further downpour.
To visit the full photo album for this walk please click on the link below;
https://www.facebook.com/#!/media/set/?set=oa.332787893506789&type=1