7/8.5.13
Walking with; Ruthy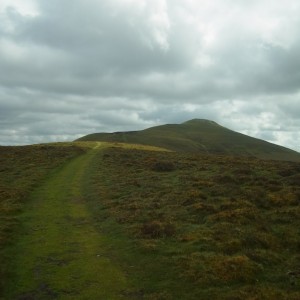 Some of my earliest walking memories are of family outings to the Brecon Beacons where my Grandparents lived (and Grandmother still does). The names are evocative to me; The Sugar Loaf, The Table Mountain, The Blorenge and in my mind they have grown into epic mountain days, and so it was, that with Ruth having to visit Abergavenny for work the Wednesday after a Bank Holiday we thought we could stay with Granny in Crickhowell and I could relive a few childhood memories.
Tuesday felt as if Summer had arrived. We rolled into Hay-on-Wye in glorious sunshine, there was blossom on the trees, primroses and daffodils were still in flower and the fields were full of young lambs. Hay is the self proclaimed book capital of the world and with 30+ shops covering every conceivable specialism, it was easy to wile away a couple of hours and head back to the car with a bootfull of new reads. We headed out of Hay and onto the Offa's Dyke Path (which I am still hoping to do this year, time permitting) and had soon left the town behind for a world of forget-me-nots, celandines, goosegrass and primroses. We crossed the Dulas Brook, back into England, and the tiny hamlet of Cusop which found notoriety as the home of Herbert Rowse Armstrong, the only English solicitor ever to be hanged for murder! More country lanes lined with Cow Parsley and early bluebells took us back into Hay still bathed in beautiful sunshine.
Wednesday morning and the sunshine of the previous day had disappeared. The cloud hung low and drizzle was in the air as I emerged replete from another Full English at The Kings Arms in Abergavenny. Undaunted I made my way through the narrow lanes and past the Sugar Loaf vineyards to the car park at Mynydd Llanwenarth where the cloud was lifting to provide spectacular views. I headed off North West and dropped into a valley below the Western ridge where I heard, and then saw, my first Cuckoo of the year. The climb up the ridge was long and blowy but undemanding and the views of the Beacons and surrounding countryside were spectacular. I now have longer legs than I did on my first ascent so it wasn't quite such an arduous adventure, but the 360 degree views from the summit are well earned and well worth the effort. It was a gentle descent back to the car park drinking in the views and skirting the edge of St Mary's Vale and once I was back I looked back at the cone like summit through the same eyes I did 30 years before and felt as if I'd had a proper adventure once more!