18.8.13
Walking with; Ruthy, Paul, Jen, Emily and Kate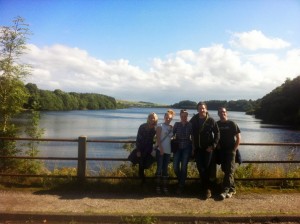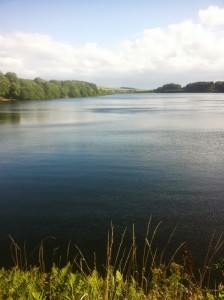 There can be few better ways to spend a Sunday than a gentle stroll in the Summer sunshine to a country pub with a bunch of good friends. I knew nothing of this area before yesterday, my experiences of the Bolton area being confined to playing various games of rugby there over the years, however by the time you reach Bradshaw the urban sprawl dissipates and rolling countryside opens out before you.
We set off from the houses on the site of the old Bradshaw Bleach works and were soon making our way through the Bradshaw Bottoms woodland, following the stream past old quarries and squelching through the occasional puddle until we hit the Jumbles Reservoir, an impressive body of water dotted with sailing boats and Canada Geese and sparkling in the sunshine. I like reservoir walking, the going underfoot is usually easy and walking by bodies of water always adds something to a ramble. There were plenty of wildflowers and birds flitting in and out of the foliage and it felt a shame to leave the shelter of the canopy and emerge in the cluster of houses. We climbed up through Turton before heading off along the path flanking our second reservoir of the day, Wayoh. The reservoir was completed in 1876 and is one of the two main sources of drinking water for the Bolton area. Along the path there were Wild Raspberries, Heather and plenty of Rose Bay Willow Herb and there were Cormorant, Canada Geese and Mallard on the water. We eventually wound our way up the hill and there before us like a welcome mirage loomed the welcoming sight of "The Strawbury (sic) Duck", a pub that as a group we can heartily recommend for treats including Potted Duck, Roast Beef and Cod and Chips, not to mention friendly staff and good beer….well worth the effort!
Replete and in need of walking off a few calories we retraced our steps back along the reservoirs and woodland paths to Bradshaw safe in the knowledge we'd had a Sunday well spent!