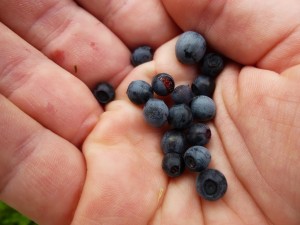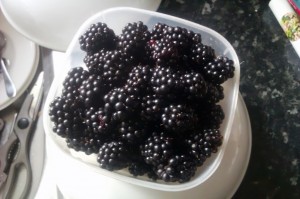 Foraging is fashionable right now. Michelin starred chefs such as Simon Rogan at "L'Enclume" and Tom Kitchin serve their high end dishes with foraged foods and charge through the nose for it, which, to my mind, represents the antithesis of what "wild" food should be about. Those of us who walk and who explore our fantastic countryside on a regular basis will already be aware of the plethora of freebies already out there from Elderberries to Wild Garlic, not to mention rock pool Shrimps and wild Raspberries.
Now I am no hard core forager, given the choice between a pot of nettle soup and a boil in the bag Full English or a steak pie and chips in a Lakeland pub….well, it's no contest, but I do like the idea of something for nothing and this time of year provides me with a few favourites. Firstly, the Bilberries are now in season, I've found them in the Peaks and Wales already this year although the Lakeland plants seem to be a little tardy. Chuck a handful of these gorgeous, bluey/purple berries into your porridge in the morning for a real wild food treat. They are labour intensive to pick and you will end up with stained hands and cheeks but it is certainly well worth it!
Even better for me, and (if you're willing to risk spilling a little blood in the cause of your sweet tooth) easier to snack on is, of course, the blackberry. I picked a full punnets worth this afternoon in less than ten minutes and am currently debating whether to turn them into a crumble or simply drizzle them with a little cream and eat them after my homemade vegetable soup tonight! Everybody has their favourite blackberrying spot and even in the urban jungle that is Manchester due diligence is rewarded with hordes of berries.
It won't be too much longer before the evenings start to draw in and the leaves start to fall, so let's make the most of nature's bounty whilst it's on offer and a hell of a lot cheaper than as a garnish on a plate at "Noma" !