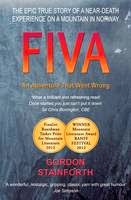 If you were to go on the reviews that adorn the cover pages of this book alone, you would expect this to be one of the finest mountaineering books ever written. Luminaries such as Stephen Venables, Chris Bonnington, Joe Simpson and Andy Kirkpatrick are amongst the many big names singing the praises of Gordon Stainforth's account of, to quote the title, "an adventure that went wrong", and boy, oh boy, did it go wrong…….
The story is a compelling account of Stainforth and his brother John's attempt to climb the Fiva (pronounced Fever) route up Store Trolltind in Norway. With only three years of mountaineering experience, a sketched map and a four sentence route description, this is a classic example of what not to do…..couple it with the fact that rations consisted of a couple of sandwiches and two chocolate bars and you could argue the book should have been sub-titled "An accident waiting to happen". Of course, an accident is exactly what happens, when the climbers lose their planned route and are forced into ever more dangerous situations, an ice axe belay fails and Gordon is catapulted down the mountain severely injuring his knee in the process. The rest of the story explores Gordon and John's fight for survival as the weather turns against them, their rations run low and they are pushed to their ultimate limits in an attempt to survive and get off the mountain.
Stainforth has chosen to narrate in the first person which has a profound influence on the way the book reads. The internal monologues and recreated discussions represent a superb recall of events and certainly speed the story along at a rollicking pace, but, to me, sometimes they can become a bit relentless and I longed on occasion for some dispassionate, detached observation. The "conversations" with the mountain seemed particularly affected to me. However, this is not to denigrate a fine "Boy's Own" tale of adventure and survival which had me racing through the pages and rooting for the protagonists even as they seemed intent on digging ever deeper holes for themselves. In these days where every expedition is planned to within an inch of it's life, where kit is designed for the worst conditions Mother Nature can throw at us and where ration packs are manufactured to provide maximum calories, minimum weight and balanced nutrition, there is something distinctly appealing and "Famous Five-ish" about this most British of adventures gone wrong.