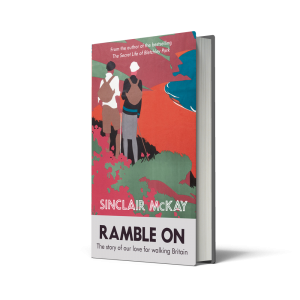 There are a plethora of books out there that explore our love affair with walking or rambling and all the attendant issues and eccentricities that are often associated with it, few, however balance humour and information as well as this one by Sinclair McKay. It is the perfect book for the bedside table, each chapter links to the others but exists as a stand-alone entity making for an entertaining slice of social history before lights out!
McKay starts with the Kinder Trespass and much of the rest of the book frames the history of rambling as an ongoing struggle pitting landowners against walkers, the left against the right, rural against urban, it can make for challenging reading but it's never dull. The 19 chapters rove far and wide (as does the author over the course of the book) from the Dark Peak to the Gower, from Rannoch Moor to the heart of Bronte country and from Wainwright and Withnail's Lakes to an urban ramble on the streets of London (Urban rambling being a particularly undervalued branch of walking).
Whilst McKay is an astute historian of the walking movement he is not above poking a little fun at some of the eccentricities of the rambling family. If you spend any time on any of the walking/camping/outdoors sites on social media you will realise the prevalence of the "gear freak", thousands of words are devoted to the debate on lightweight kit, best waterproofs, most spacious tent, best walking poles…..the list is endless. McKay wilfully subverts this on his walk from Rhossili when dressed in his cord jacket he sets out into the heart of rambling country, needless to say he survives unscathed.
The back cover of my edition contains the sentence "The only way to understand a land is to walk it", Sinclair has certainly done this and the account he has provided is well worth a read.