12.8.14
Walking with; Nathan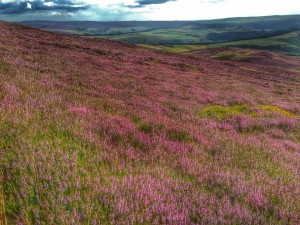 I am going to go out on a limb and say it "Kinder is the best walking in the Peak District", and walking the Kinder edges is probably the best walking on the plateau. The middle is a maze of groughs, peat hags, bogs and runnels, but the edge has the views, a sense of exposure and the feeling you are going on a journey. I was out walking with Nathan who had decided he wanted to explore part of the perimeter path that he'd not walked on before, and in August, with the Heather in full bloom, who was I to argue a different course?
We set off along Grindsbrook Clough, undoubtedly my favourite route up onto the top. The path was unseasonably quiet and we made quick progress up the Clough picking our way back and forth across the water and admiring the purple swathes of heather. A quick scramble and we were up on to the path just West of Upper Tor. It was pretty clear at this stage and the views across the Edale valley to the Great Ridge were fantastic, it's still a truly inspiring skyline and one that cries out to be walked! After watching a Kestrel hanging above the valley we continued along the edge passing Golden Clough, Ollerbrook Clough and headed to Crookstone Out Moor where we swung North for views across towards Alport Castles, a perfect spot for a bit of lunch and some homemade Black Forest cupcakes!
The forecast had predicted rain from early afternoon and the clouds massing above Bleaklow loked pretty foreboding and so after putting our heads together we decided to leave the path above Seal Edge and head South for a spot of bog-bashing across the middle. The ground underfoot was surprisingly dry and after stopping to snack on some bilberries we made our way back through the Cotton Grass and peat to hit the top of Grindsbrook once more. We made it as far as Grindsbrook Knoll and then the squall hit and hit hard. I later found out that Mountain Rescue had been called out to an accident at the top of Grindsbrook a mere 45 minutes after we passed by, given the poorly dressed and equipped walkers we saw in that area I am not unsurprised. We descended off the Knoll and back into the village of Edale with the worst of the weather following us in!
A great day out with some spectacular views and confirmation that as far as the Dark Peak is concerned, walking the Kinder edges is just about as good as it gets!
To view the full album please use the following link; https://www.facebook.com/media/set/?set=a.946632922019329.1073741874.597048676977757&type=1