9.6.15
Walking with; Jay and Iona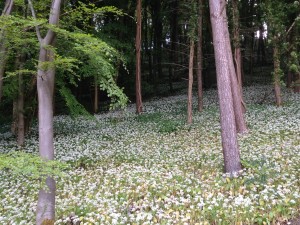 With Mrs H being hobbled by a ruptured Achilles tendon (ouch!) our annual walking/country trip involved rather more in the way of cream teas and country inns than it did miles of footpath, however we did manage to fit in a short walk out of Pickering with Ruthy safely tucked away in the pub!
We headed North out of Pickering following the road past the train station and the old trout farm before passing the splendid looking Bed and Breakfast at Lowther House. We followed a path that skirted Pickering Woods (owned by the Duchy of Lancaster) and ran along the length of the brook. It was shady walking with the fragrance of thousands of Wild Garlic plants assailing our nostrils and birds and butterflies galore. The path took us round some flood reduction work which somewhat removed the air of rural idyll, but we left it behind and followed the path until it took across the railway line used by the North Yorkshire Moors Railway. We were treated to a steam train in full view which was great and then followed the path that tracked the railway line back to the railway crossing adjacent to Lowther House. A short walk later we were back in the town and dragging a reluctant Mrs H out of the pub.
It was hardly a challenge, it was not a bucolic idyll but it was miles in the legs with beautiful wild flowers and good company and sometimes that is just what the Doctor ordered!