2-4.6.15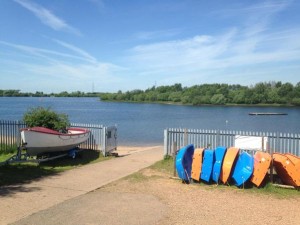 Sometimes it's nice to do something a little bit different and this week I have been helping out the instructors at the Chase Water outdoor centre run and operated by Entrust. Entrust run residential activity breaks for children in and around Staffordshire and had two school staying at the centre during the week I was supporting them.
We spent most of the week doing a range of exciting, fun and challenging activities which included; Indoor bouldering, an outdoor climbing wall, raft building and a cycle ride around the lake. After the wild winds of Tuesday the weather got better and better and by the time we had our bike ride there were blue skies and positively Mediterranean temperatures. Wildlife highlights included; Roe Deer, Great Crested Grebes, Common Terns, Bird's Foot Trefoil and Purple Vetch not to mention plenty of Dragonflies and Butterflies.
I will be back with Entrust in a couple of weeks and am looking forward to helping out with the range of activities that they offer for the young people attending their centres.