Walking with; Patricia
7.9.15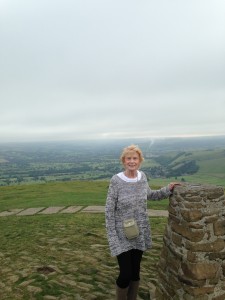 One of the things we pride ourselves on here at Come walk with me is our flexibility, whilst we believe that on foot is the best way to see the countryside we appreciate that not all our clients are able to put in a 20 miler so we adapt our itineraries accordingly. So when Patricia contacted us and said she was looking to see the best of the Dark Peak but wasn't looking to do any longer walks we put together a tailor made itinerary.
Patricia was born in Salford but had left the UK in 1960 and was visiting family and friends on a "homecoming" tour. During the course of our discussion we discovered that I'd met her brother many years ago in a pub in West Didsbury, it's a small world sometimes….We started our day at Mam Tor which anyone who has followed my blog knows is one of my favourite places in the Peak District (if not the UK). It's an ideal spot to get a sense of perspective and the views of Edale and the Hope valley are magnificent. After that we carried onto into Castleton itself where we explored the back streets, admired the cottages and took in the views of Peverill Castle and the flocks of vocal Jackdaws. At Hathersage we visited the church and the grave of "Little John", the companion of Robin Hood. According to tradition Little John retired from his life of outlawery to a cottage next to the church and was buried there on his death. What is certain is that when the grave was exhumed in 1782 the remains of a man of about 7 foot were discovered. After lunch at "Coleman's Deli" we continued down to Ladybower and then onto the Derwent Valley reservoirs where we took a waterside stroll and saw a beautiful male Pheasant. Our last stop of the day was at Tideswell where we saw the truly impressive church of St John the Baptist, known as "The Cathedral of the Peak" due to it's enormous size.
We returned Patricia back to Manchester after a full and varied day taking in some of the spots she'd visited in her childhood and with lots of great photographs and memories of the Dark Peak.