Link to the full album on Facebook
23.10.15
With; Mr. Pramanik, Dr.Nandy and Richi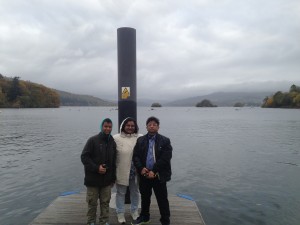 It is always very gratifying to get a booking via a recommendation so when we were contacted by Dr Nandy who had taken two tours with us earlier in the year saying her sister wanted to visit the Lake District with us it was music to our ears. We had enjoyed our trip to the Lakes and consequently we had decided to base the tour around roughly the same itinerary that we had taken earlier in the year.
We left Manchester early and were very fortunate that the traffic was light and we were in Bowness not long after 9am. Whilst the disadvantage of visiting the Lakes at this time of year is the less than predictable weather and shorter days the positives can be the lack of visitors and we had the Southern lake shore pretty much to ourselves. The Autumn colours were already looking spectacular and there were flocks of Swans, Geese and Ducks which the guys enjoyed feeding. Leaving Bowness we followed the Eastern shore of the lake as far as Ambleside before turning down into the Langdale valley. We stopped just past the Old Dungeon Ghyll and enjoyed the views of the Langdale Pikes and also the flocks of Herdwick sheep before the cloud dropped and the rain started to fall. Our next stop was at Blea Tarn, one of my favourite spots in the whole of the Lake District, unfortunately the rain was coming down pretty hard at this point so after a brief visit we continued on down ever narrowing lanes into Little Langdale, one of the less visited but very beautiful areas within the Southern Lakes.
The family were keen fans of Wordsworth so the next obvious stop was Grasmere where they had lunch and visited St. Aidan's church to see the Wordsworth family graves before deciding they would like to visit Dove Cottage. With the weather remaining distinctly Autumnal the cottage tour and museum provided a dry and compelling celebration of one of England's greatest poets. We finished the trip with a stroll on the shores of Grasmere before heading back to Manchester and the train South! It was a cracking day out in the company of a lovely, enthusiastic and interesting family and whilst we didn't manage many miles of walking we certainly saw a lot of the wonderful lakeland countryside!