Full album on Facebook22.5.16
Walking with; Lakeland Mountain Guides and Matchtech Ltd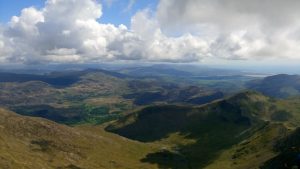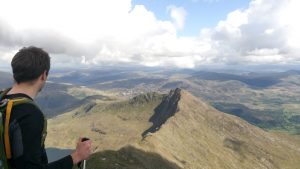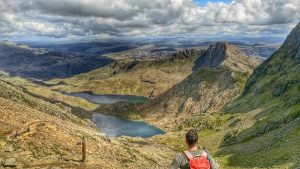 I read somewhere recently that Snowdon was the second most climbed mountain in the world and on a busy Sunday afternoon it can certainly feel like that! I was working with LMG and Matchtech on the last leg of their Three Peaks Challenge, a corporate charity event that had raised £15,000 for charity. Sometimes people can be sniffy about the Three Peaks, and there are certainly concerns over the volume of traffic and levels of responsibility by participants and organisers, but it undeniably does raise considerable amounts of money for good causes and for many participants is a gruelling and mentally demanding challenge.
The forecast for the day was pretty wild but by the time the group arrived from Scafell Pike (albeit a couple of hours behind schedule) it seemed to have rained itself out and it wasn't long into the ascent before we were stripping off waterproofs and rolling up sleeves. In spite of it's popularity I like the PYG track. It has a rough and rocky feel as it climbs up the side of the Llanberis Pass towards Crib Goch and then contours round beautifully with the ridge above and Llyn Llydaw below. The team made good progress and worked really well in terms of mutual support, always a bonus! We continued up to the summit in bright sun and enjoyed spectacular 360 degree views from the top. For the guys who hadn't been up Snowdon before it was hard to convince them of the very many times I've arrived at the top and not even been able to see the café! Talking of the café, one of the team who had been suffering with a sore knee decided to get the train down to Llanberis (although he later texted us to say he was watching the England game with a pint so the veracity of the knee claim was hotly debated on the way down!).
Whilst the group weren't going to complete the challenge within 24 hours (and ultimately nobody really cares!) they decided to aim for 25 and so we chose the Miners Path for our descent as the path along the valley is flatter and easier to make up time on. It also has the virtue of following the lakes and streams and passing through some of the ruins of the eponymous mines that dot the path. We rolled into the Pen Y Pass carpark just inside the 25 hours and I left the guys enjoying a well earned beer and waiting for a second group from their company who had set off an hour or so later. Big thanks to LMG and also to the team for putting in the effort and being thoroughly likeable guys!!