Full album on Facebook
9-10.6.16
Walking with; Team 6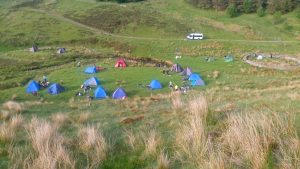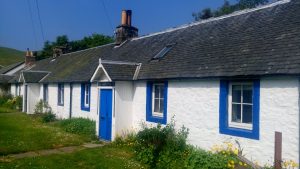 My D of E calendar has been a full one this year, but a welcome last minute call up took me North of the border into the hitherto unvisited Pentland Hills to help out on the qualifying expedition for the pupils of St Ninian's in Glasgow. As I am not currently an assessor this is the first qualifying expedition I have worked on and it was a slightly different experience without the element of instruction.
The SOEC is a multi-centre organisation and we were based at Broomlee House in the pretty Edinburgh commuter village of West Linton. The centre was at one time used to house children evacuated from the big cities during the war and still has the layout of a barracks or camp. When I arrived in the village it was in the middle of the annual "Whipman" festival, a festival that started as a holiday for agricultural workers in the early nineteenth century and was proving very popular on my arrival. On Day one my first job was manning the checkpoint at Carlops, not a bad way to pass a few hours in the sunshine scanning the horizon for the teams due to pass my way. I then swept along behind the group staying out of sight and monitoring their progress from afar. It was un-Scottishly sunny and the group (and then I) eventually alighted at a beautiful wild camp spot on the banks of a burn and settled in for the night, the only downside to the evening being the ferocity of the notorious Scottish midge!
Overnight the rain set in and it was a damp and misty start to the morning. The group set out and made their way to the site of an Ancient Roman fort as they skirted the West Linton golf course. A day of remote supervision saw me tracking them as they followed paths high above deep gullies across moors rich with bilberry and bog cotton. As the group continued their paths crossed with their assessors and as we reached the end point it was great to have been part of a process which saw the young people concerned fulfilling the conditions required to pass their expedition.