11.9.16
Walking with; Team TLC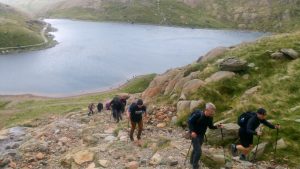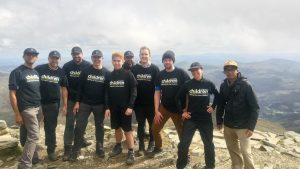 I read once that Snowdon is the second most ascended mountain in the world and on a Sunday morning the carpark at Pen Y Pass can certainly have the feel of Piccadilly Circus about it as fleets of minibuses disgorge crowds of walkers in various states of good humour. The 24 hour challenge is all well and good but to my mind the element of challenge can take away from the actual mountain experience with all the focus being on the stopwatch and time for enjoying the grandeur of the peaks and landscapes being sacrificed. Doing the 3 Peaks over 3 days provides a far greater opportunity for a physical challenge with time to stop and take in the views that on a sunny day on Snowdon were stunning.
My co-guide Christine and I picked up the guys at Pen Y Pass and after ascertaining there were a few creaking knees and aches and pains we decided to go up and down The Miners Track. The path was originally built to service The Britannia Copper Mine and passes close by to Llyn Teyrn before the causeway takes across Llyn Llydaw to the ruins of the old mine. We ascended at a good pace with the group telling tall tales of nearly being blown off Ben Nevis on day one of their challenge but frustratingly the peak of Snowdon remained cloud bound. We continued up past Llyn Glaslyn before stopping for some lunch at the bottom of the zig zags and here something magical happened……the clouds lifted, patches of blue sky appeared and a stunning vista opened up in front of us. The rest of the day was spent in beautiful sunshine and the group, who were fund raising for the charity The Railway Children, enjoyed fantastic views from their well earned summit. In spite of the crowds, the views from Snowdon on a sunny day are the equal of any in the world!
We descended the same route, picking our way down the zig zags and back to the lake shores. The wind was gusting strongly and whipping up spray devils off the lake and the causeway crossing on the way back home proved to be a damp experience! Huge thanks to Max Ad and the fantastic team from TLC for a great day out, and thanks to the Sun Gods for a bit of early September sunshine!