2-4.9.16
Walking with; the 25km and 100km walkers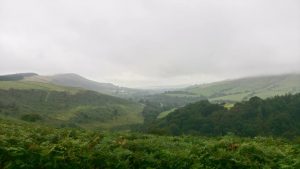 TrekFest is probably my favourite mass participation event and for the Peak District one this year there were over 600 registered participants. The base camp for the event was on the playing fields of Hope College and from there the four different routes covering 25,50,75 and 100 km set out to explore the best of the Dark Peak.
I spent the Friday on route marking duties, something that I always enjoy. I started on the sector that ran alongside the Ladybower Reservoir upto Howden Dam. It was a peaceful walk and apart form the odd fisherman and a couple of dog walkers I had the path to myself. After being picked up from Fairholmes I spent the afternoon marking along the River Derwent into Hathersage before returning to base camp for meet and greet duties,a hearty feed and a night in the tent. My allocated roles for the two days were to sweep walk the 25km on the Saturday and the 100km on the Sunday with Stu Westfield from Ranger Expeditions. This role is a bit like the broom wagon on the Tour de France, you follow the participants round the route collecting in the marker arrows and when you eventually reach the backmarkers providing words of support and encouragement! On the 25km route we followed the walkers from Edale up to Ladybower and then along the reservoir and back into Hope. The conditions were pretty biblical with grey skies and persistent lashing rain which soon had all participants and staff soaked to the skin. None the less everyone soldiered on and as we walked in the last participants it was massively gratifying. It's always particularly moving to talk to people about their reasons for walking and the charities supported by their efforts.
After another night in the tent we were up early and following the remnants of the 100km from Fairholmes through the wet woodland to Hagg Farm and from there on along the same route as yesterday. It's an incredible thing to watch the dedication and commitment of the walkers as many of them push themselves to their absolute limits and I am very proud to have been a part of it again…..Roll on TrekFest Beacons 2017!