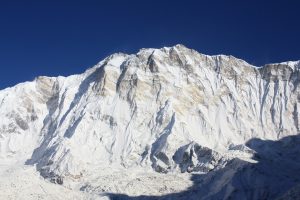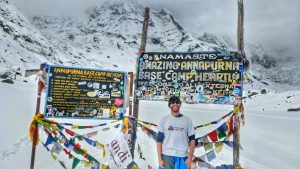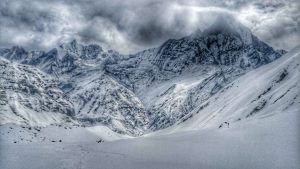 Nepal is surely one of the most iconic trekking destinations in the world and after my recent visit for work with Camps International I had definitely fallen in love with the country and the people. I'd decided to return and undertake some personal trekking in the Annapurna region and after a considerable amount of research I decided on the Annapurna Base Camp trek as my target. After a couple of relaxing days by Fewa Lake in Pokhara where I stayed at the excellent Mountain View Hotel and got my Annapurna Conservation Area Permit and registered with the Trekker Management System I ordered an early morning taxi and headed off to the start of the trail at the tiny roadside hamlet of Phedi. All the guidebooks warn you that on the ABC trek there are A LOT of stone steps and from Phedi it was straight up the first of many to the village of Dhampus. It was kind of "love at first sight moment" as I made my way through the beautiful village passing fields of cabbage and mustard greens and the distinctive haystacks that sit alongside almost every house I passed. I spotted Monkeys and chatted to school kids as I made my way through the village and then on through my first stand of Rhododendron forest to the teashop at Deorali where I got my first proper view of the high Himalayas! As I sat and drank my sweet,milky tea under a scorching sun and admired the spectacular views of Annapurna South and Hirunchuli it was one of those genuine lifetime highlights! More stone steps (going down this time) took me to Bheri Kharka and then onto Tolka where I had my veggie curry and a cold coke whilst watching vultures soar on the thermals in front of me. I'd planned on staying in Tolka but still had plenty in my legs so continued on to the Gurung village of Landruk where I checked into "The Hungry Eye Guest House" and spent a very relaxed evening gazing out over the Modi Khola and watching the ebb and flow of village life.
Breakfast with a Himalayan view is definitely one of the better breakfast options. I made my way down to the fantastic hanging suspension bridge at Himal Qu without seeing another soul and then sweated my way up an ever steepening slope to Jhinu Danda. Jhinu Danda is the kind of place that should be on every substantial trek as it is home to a hot spring which is wedged into a steep side, jungled valley and sits next to a fast flowing, freezing river. I wallowed for a substantial amount of time and found it very hard to leave, however leave I had to in order to start one of the trek's most brutal climbs all the way upto Chhomrong. Chhomrong at 2210m is the highest permanent settlement on the trail and has a good range of facilities. I stayed at the Excellent View Guest House, ate a pile of Dahl Bat and had a convivial evening with fellow hikers, unfortunately the view was obscured by a heavy haze so I was unable to ascertain whether it really was excellent or just a clever marketing ploy!
Day three started with a long descent through the village to Chhomrong Khola and another amazing suspension bridge before a steady climb to Doban. After Doban it was a long period of forest walking through huge Rhododendrons and stands of enormous bamboo to the collection of guest houses at (the aptly named) Bamboo. The mountain views improved as I made my way upto Himalayan Hotel (a hotel is the loosest sense of the world) where I decided to spend the night. By now there were flurries of snow and the temperature had dropped substantially so it was flasks of ginger and lemon tea and piles of blankets to keep warm. It was here I met fellow trekkers from Austria, Japan, Holland, Germany and Switzerland and we formed a United Nations alliance and agreed to continue onwards together.
We started early on Day 4 as the area above Deorali is prone to avalanches and it's recommended to get through as early as possible before the sun has the chance to warm up the snow pack. After Deorali we moved into a beautiful valley and finally left the jungle behind. The mountains rose on all sides and the views were fantastic as we made our way across a couple of old avalanches and reached the snowline. The path up to Machhapuchhare Base Camp was narrow and slippery but as we reached the camp itself the views of Machhapuchhare, or "Fishtail" as it is better known due to it's distinctive shape, made all the effort well worthwhile, it was simply magnificent. The mountain is a sacred one and ascents of it are prohibited. We headed to the "Sanker Lodge" for lunch and then the snow started to fall and it didn't stop! Our original plan had been to proceed up to Annapurna Base Camp but with the conditions rapidly approaching whiteout we decided to hunker down with cards, books, lemon and ginger tea and as many layers of clothing as possible and sit it out til the morning.
The pattern was much the same the next day. We tramped and trudged our way through the deep snow for around ninety minutes until we eventually reached our goal, Annapurna Base Camp at an elevation of 4130 metres. Whilst the views of Annapurna South and Hirunchuli were still impressive, as was the courage and resolve of the skier we saw on the slopes of the latter, Annapurna itself was still swathed in cloud and hidden from sight. After lunch the snow started to fall and got heavier and heavier and we spent a convivial afternoon with a motley assortment of Argentinians, Koreans and numerous other nationalities. It was a cold night but it was worth every frozen breath. We awoke to a perfect morning, a cloudless blue sky and an unspoilt view of Annapurna I, the tenth highest peak in the world at 8091 metres and with an ascent rate half that of Everest and a death rate three times higher. It was first climbed in 1950 by Maurice Herzog and then not again til 1970. The stark reality of just how dangerous the mountain is was bought home by the memorial to Russian climber Anatoli Boukreev who was killed in an avalanche on Annapurna on Christmas Day 1997. Boukreev came to public attention in the film "Everest" where he rescued a number of climbers during the deadly storm described in "Into Thin Air". After that, it was down through the deep, crisp, newly fallen snow. A long day took us down to Doban for a well deserved celebratory night drinking beer around the bonfire with a bunch of locals and some Chinese trekkers.
I'd decided to leave the rest of my team for the last day as they were heading to Landruk and I wanted to take an alternative route on the far side of the valley.So, I was up early and tackling the seemingly unending stairs into Chhomrong before the sun was too high. This time the vista from the Excellent View really was, it was magnificent. After leaving the village I headed down, down, down for a coffee next to the river at Kimrong before the long, arduous and seemingly unending climb to to Kumrong Danda for one of the most refreshing bottles of cold, full fat coke I have ever had! My last stop on this epic trek was the village of Ghandruk where I had a plate of Buffalo Momos on a rooftop terrace and drank in my last views. An hour later I was in Kimche and hopping into a jeep that conveyed me back to Pokhara and cold beer, hot water and a comfy bed. This trek was without doubt one of the greatest adventures of my life. I have fallen in love with Nepal, with the mountains, the people, the culture and the landscape. I will be back.