25.1.18
Walking with; Martin,Howard and Banksy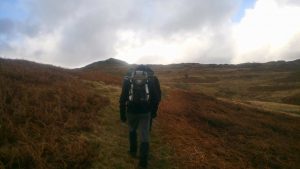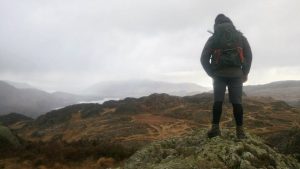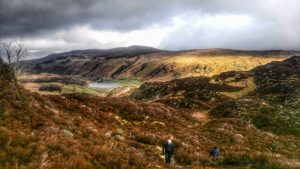 I first met Martin when we were representatives on the Hill walking committee of the British Mountaineering Council. We hit it off well and Martin set up his business "The Hillwalker" at about the same time as Come walk with me UK was starting to take off so we had plenty in common but busy schedules meant that we never really got to get out on the hill together. Over the last twelve months Martin has been having treatment for cancer but having recently been given the all clear we decided it was long overdue getting out on the hill together and so Martin roped in a couple of extra recruits and after a fortifying breakfast at "Booth's" in Keswick we headed down towards Watendlath. Roadworks on the Borrowdale road meant we ended up diverting along the narrow road below Catbells before emerging at Grange and then taking the ever narrowing road over Ashness Bridge and down to the carpark at the tiny hamlet of Watendlath sat on the shores of the eponymous tarn. The name is derived from Ancient Norse and roughly means "Water End Barn", even on a busy day in Keswick it's a quiet spot and has a real "end of the world" feel to it. We only saw two other people all day, rare in the Lake District!
We set off across the beck and started a steady, soggy underfoot climb up out of the valley above the tarn. Martin had planned the route to add a couple of Wainwrights to his total and the first objective was Grange Fell the top of which sat beyond the saturated ground of the wonderfully named Joppletyhow Moss. In spite of the occasional patch of blue sky by time we attained the top (having first clambered up onto Jopplety How itself) the wind had real teeth and a sleety, chilling rain started to fall. We headed back down to the tarn before following the track that crossed Bowdergate Gill and then crossed more rough, marshy land til it reached the foot of Great Crag, our second objective for the day. As we climbed we had some fantastic views back down this almost abandoned feeling valley to the dark clouds that rolled along it. They struck not long after we had reached the top so after a quick bite to eat with hoods up and gloves on it was back down to Watendlath and the warmth and shelter of our cars!
It was a grand couple of hours out and talking to Martin about his experiences over the last twelve months was thought provoking and instructive. I can be guilty of thinking that unless I am having a "big day" then it's not really worth making the effort to get out to the hills. This proved just how wrong that attitude is, getting out (pretty much regardless of the weather) always makes me feel better. It improves my mood, my mental health and is beneficial to my physical health, it inspires me and in the case of this walk it provides me with great company. It's too easy sometimes to make excuses about why I should or shouldn't do this or do that? I am fortunate, the barriers I have I usually put in place myself, this year I will do my level best to make sure I am not doing that. As Martin and Howard are hoping to follow in Banksy's footsteps and undertake the Everest Base Camp trek in 2019 here's hoping I get out with these boys again!