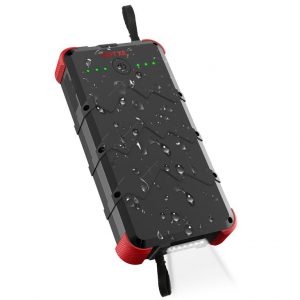 I don't do a lot of kit reviews but every now and then I get sent a piece of kit that proves really useful and with expedition season coming up and my ever increasing dependence on technology the Outxe rugged power bank definitely falls into this category. I've been using a Juice power bank previously and had been impressed so I was interested to see how this new product measured up.
Firstly, it's a chunky bit of kit, it's heavy (which might be a problem for the ultra-lighters of the world) but looks pretty indestructible. It claims to be waterproof and whilst I didn't run the risk of submerging it in my bath it certainly looks and feels as if it would be ! All the ports are well protected, a useful feature to prevent dirt, dust and grime from infiltrating which is always a risk when a power bank is tucked away in a full pack. It's a 20,000 mAh capacity which means that once charged (and this does take a while) it provided 5.5 charges of a variety of products including my Smart Phone and my camera. A unit that contains that amount of juice is always going to be useful as it's almost a week's worth of power off just a single charge which is more impressive than the unit I had previously used.
It's a reasonably priced piece of equipment in a competitive market. Whilst the size and weight might put off some people I like the "tough" exterior and can see this becoming a regularly used bit of kit. I'll be interested to see how it copes with a month in Africa this Summer when I take it to Malawi on expedition!