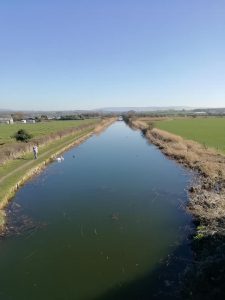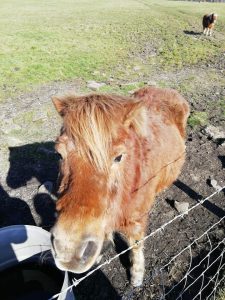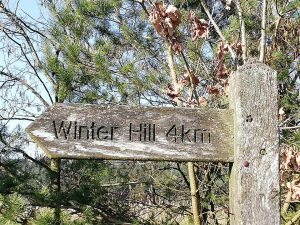 When I first qualified as a Mountain Leader and set up Come walk with me UK I was stupidly excited about spending every waking hour out and about in the great outdoors and exploring every inch of the British Isles! As we enter our fifth year (and fifth year of growth) here at CWWMUK HQ I am no less enthusiastic about my dream job but there has been a dawning realisation over the last couple of years that instead of exploring an ever increasing range of beautiful hills and off the beaten track trails I spent a lot of time on Snowdon, and in Cannock Chase and on the Great Ridge, and whilst all of these are awesome places to be working, I don't actually get to spend as much of my own time as I'd like getting out and about….hence a slightly belated New Year's Resolution to make better use of my spare time and get some personal miles under my belt. My doorstep is the best place to do this and I am very fortunate that being based in Manchester means that doorstep contains many miles of countryside in Derbyshire, Cheshire and Lancashire that are all underexplored, at least by me. During the spell of unseasonably warm weather in February and early March I was fortunate to get out and try a few new walks in lovely Lancashire and here is what I thought of them.
I'd never even heard of Glasson Dock but a little research showed it was once a busy port with a link built between the harbour and the Lancaster Canal. Nowadays it seems a pretty sleepy little town with the couple of fishing boats moored up far outnumbered by canal boats in the basin. We left the town behind and were soon crossing sheep dotted fields on our way to the coastal path fringing a huge expanse of mud flats upon which sat the picturesque Plover Scar lighthouse. The surrounding fields were filled with enormous flocks of Swans, far more than I have ever seen in one place before, and the flats were busy with Wading birds including Oystercatcher and Turnstone. We continued to hug the very edge of the land until we detoured inland to examine the ruins of Cockersands Abbey which was founded in the twelfth century as a hospital before being converted to a priory. It has the end of the world feel that, to my mind, always encourages reflective contemplation, although there isn't a great deal of it left now and it sits in the shadows of a somewhat neglected farmhouse. The remainder of the walk turns back inland and via a selection of narrow lanes and cross field paths took us back to a bridge on the outskirts of the town from where we followed the canal towpath past a churchyard full of crocuses to our starting point and then onto a very tasty meal at "The Dalton Arms" where the welcome was friendly and the beer excellent. Well worth a wander. It was such a beautiful day that on our way home we stopped at Anglezarke reservoir for an evening constitutional in the sun up to Yarrow Reservoir and back!
The next day was equally beautiful and we decided on moorland not coast on this occasion. Smithill's Hall is a Medieval manor house on the edge of Bolton with an interesting museum and a very good tearoom! Leaving it behind we headed steadily up passing farms, old quarries and through woodland until we came upon Coal Pit Road and entered the belt of moorland that surrounds the Winter Hill mast (over 1000 feet tall and unmissable from anywhere in the area). At the junction with the road there is a stone commemorating the Winter Hill mass trespass of 1896, an event far less famous than it's Kinder counterpart many years later. On September 6th 1896 a group of 10000 Boltonians marched against the barring of the right of way onto Winter Hill by Colonel Ainsworth, the resulting legal embroilments went on for many years. The moorland up to the mast is pretty bleak and fire scoured and the walking was rough but there were some impressive views and we eventually made the siren lure of the mast, a truly unmissable presence. We ended up descending via the attractive cottages of Barrow Bridge before descending back to Smithill's Hall for a cream tea on the sun terrace in February……
And there was still time to fit in one more before Storm Gareth arrived and banished the memories of those fleeting days of Winter sunshine. My Dad had come to stay and birds are his thing so we headed up to the Wildfowl and Wetland Trust Reserve at Martin Mere, a new one for both of us. The set up is impressive (and would need to be given the exorbitant entrance fee) but the birding was impressive. There is a permanent collection of "exotic" birds held at the site but the lakes where the wild birds were are the highlights. We saw huge numbers of Whooper Swan, Shelduck, Greylag Geese, Greenfinches, Teal, Gadwall, Gulls and many, many more. The hides were high quality and the reedbed walk was peaceful and the beds expansive.
All three of these walks gave me a huge amount of pleasure and were no more than an hour from my suburban doorstep. They offered a huge range of habitat, vistas and facilities but all of them showcased an aspect and area of the county surrounding my home that I hadn't previously considered. I feel motivated and excited to do more of this kind of thing and whilst I am excited for my first Snowdon day of the year and my next overseas trip (Kenya) I am more confident that 2019 will be a year for me to explore and renew my appreciation of the world more directly around me!