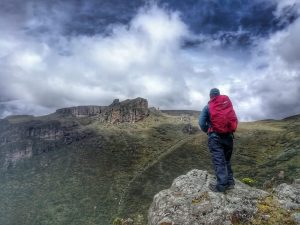 Looking back on 2019 it is hard not to feel just a little bit of smugness. This has been our busiest and most adventurous year to date and we have had some amazing experiences with some wonderful people. Our year started in February with a trip to Tanzania where we worked with a team from a Canadian school in the shadows of Kilimanjaro. We followed this with a trip to the North of Vietnam visiting wonderful sites such as the world heritage listed Ha Long Bay, one of my highlights of the year. D of E, as always, played a large part in the start of the year and we worked with a number of different providers including Entrust, BXM, Aim High and School Camp across a wide geographical area ranging from the Dark Peak to the Dorset Coast and from Cannock Chase to the New Forest. It can be incredibly rewarding watching young people gaining new skills and being responsible and independent.
The end of March took us off to the Marungu Hills in Kenya where a team from Dubai British School worked on community projects, trekked in the hills and watched wildlife on safari. East Africa has been a favourite area since Come walk with me UK was set up and it has been great to have so many opportunities to go back! A little colder, but no less scenic, we have worked on the West Highland Way a couple of times this year with the great team at Thistle Trekking. It's a great route and an ideal introduction if you are interested in trying out a multi day trek, it really showcases the best of the Scottish landscape with a combination of Lochside walking, mountainous scenery and the wild, pace of Rannoch Moor. We continued to work with our corporate partners organising events for upto 80 participants for the Davies Group, Rightmove and Highways England.
We spent a lot of time in the Brecon Beacons working on adventure camps with young people and a few days in Staffordshire doing much the same with primary aged kids before doing our first NCS week for a couple of years in the beautiful waterfall country near Glynneath. Our big Summer expedition was to Tanzania where, in addition to the project work with local communities, the school hiked in the Usambara Hills and saw Lions and Elephants on safari as well as a huge range of other wildlife. Thalia and I took on the Malerweg trail over a beautiful week in Eastern Germany before another week on the West Highland Way and a reccy trip to the magnificent Mount Elgon in Uganda ahead of a trip in January with Tribal Tracks. Our working year finished with a month in Borneo, a genuinely wild and challenging place where we jungle trekked, viewed Orang Utans and explored caves and limestone pinnacles.
It's been a wonderful year, we are lucky to have an awesome team here who help us to provide the top quality events that we offer and help you to explore the best walks in the UK and beyond. For 2020 we have a range of "on your doorstep" walks that we will be offering in addition tour usual products. We hope to see you on the hill in 2020 and wish you a very HAPPY NEW YEAR! Thank you for the ongoing support we have received in 2019.