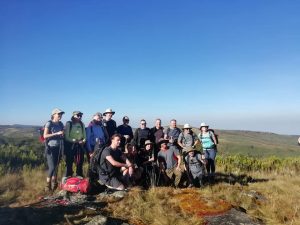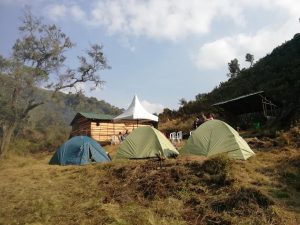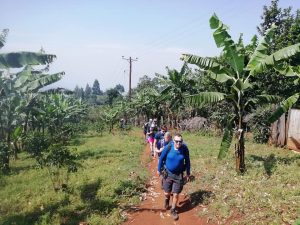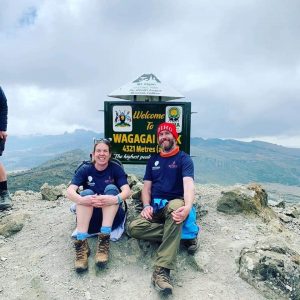 Sometimes I feel incredibly lucky to do the job I do, not just because I get to visit some fantastic places but because I get involved with some amazing and inspiring people. 40tude are a charity working towards finding a cure for colon cancer and it was my pleasure to lead a group of fundraisers including charity founder, Gordon Moore, up to the highest summit in the wild and beautiful Mount Elgon National Park in Eastern Uganda. Tribal Tracks have worked with 40tude on a number of previous challenges and it was a pleasure to work with such an organised and professional outfit.
At 4321m Wagagai is the highest peak on Elgon and by most definitions is the eighth highest mountain in Africa, it also sits on the edge of the largest volcanic caldera in the world and before the huge explosion that blew the top off it, Elgon was higher than Kilimanjaro. It is also little climbed and if ascended from the Sipi Falls side takes you through some genuinely wild countryside with no sign of human imprint for three solid days. We started from just outside the town of Sipi and after roasting, grinding and drinking our own coffee at a local farm we passed one of the three spectacular falls that Sipi has become famous for. We made our way to Kapkwai Gate where we met our substantial team of guides, porters, cooks and Ugandan Wildlife Authority Rangers who were to accompany and support us on our expedition. The rest of our first day saw us making our way through dense forest under thick canopies until we reached our camp for the first night next to the huge bat-filled Tutum Cave. Chef John conjured up the first of many fantastic meals cooked on an open campfire whilst the team relaxed and explored the caves…..it's rumoured that some of the tunnels are so deep that they lead all the way into Kenya!
Day two was a welcome shorter day and the day we moved out of the forest and into Heather country. Ugandan Heather is tree sized but the opening up of the landscape meant we started to get a sense of just how wild the environment around was. There were plenty of ups and downs and we started to see some of the proliferation of wildflowers for which the mountain is famous. We reached Kajeri camp in time for a hot lunch and the chance to wash and freshen up in the bracing waters of a mountain stream. Kajeri is a beautiful spot with the camp tucked in a tiny valley fold next to the aforementioned rushing waters and with stunning views of star filled skies by night. The temperature had dropped quite dramatically at this stage and the roaring fire was a welcome sight in the evening. Day three was a loooong day and the amount of ascent and descent always makes it a tough one, but the scenery grew increasingly spectacular and on the horizon we could see one of the other peaks of Elgon, Mubiyi, in all it's craggy, splendid glory. We moved from Heather into the zone of Giant Groundsel and Lobelia, spectacular, almost Jurassic looking plants that are dotted all cross the landscape. The last section of the day where we descended into the crater affords some of the best views of the whole trek and helped alleviate a few tired legs and creaking joints as we slogged our way into Mude Cave camp where we would stay for two days on either side of our summit attempt. By this stage it had become clear to me that I was accompanying a group of extremely motivated and determined people and the spirit within the group left me in little doubt that we would be making a successful summit attempt the next morning.
Summit day dawned clear and we made our way up towards the beautifully located Jackson's Pool, just below Jackson's Peak and with super views of Mubiyi. Eventually after a long, slow climb we hit the edge of the caldera and were rewarded with views across the crater and into Kenya and, finally, in the distance we got our first sight of Wagagai still a formidable distance away. More great walking along the crater edge through swathes of wild flowers and with views in all direction and suddenly we were scrambling up the final slope and onto the summit of Mount Elgon for a hugely well deserved celebration and some amazing, wild views ! We descended back to Mude Cave camp and then the next morning it was the long, steep descent down through more forest, past Sasa River camp and down the infamous stairs of the "Wall of Death" before an interesting route through the farmland and outlying villages that surround the end point at Bumasola. After four days of wilderness and minimal human imprint to be suddenly surrounded by fields of onions, corn, coffee and avocadoes, not to mention goats, cattle, squealing children and families labouring in the fields was a bit of a shock to the system but a great way to finish the hike, We had a great meal at Rose's Last Chance in Budadiri before returning to Two Friends Guest House in Jinja for a well deserved celebration dinner.
So far the trek has raised nearly £30,000 for the charity and it is testament to the attitude and positivity of the team that we had a 100% summit success rate. It's inspiring to be part of something like this and see the enthusiasm and drive that helps charities like 40tude succeed and move forward. My next job with Tribal Tracks will see me working with the Doddie Weir foundation in Morocco and I feel honoured to be involved with such a great bunch of individuals striving to make a real difference in treating some horrible conditions.