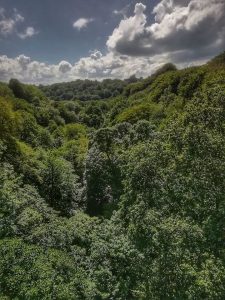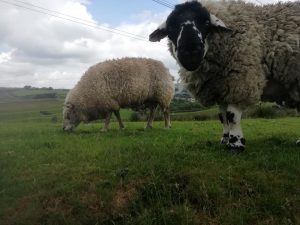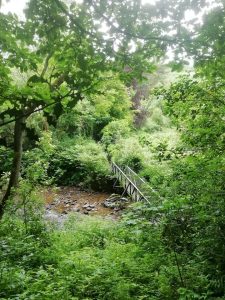 I have mentioned it already but one of the unexpected bonuses of the Covid 19 crisis has been that it has forced us to look at alternatives to tried and tested favourites. The reality is that if I had a free weekend and the sun was shining and I fancied a walk it's likely I'd head to the Peak District or maybe the Lakes or North Wales. However, for reasons of legality and overcrowding we've not really fancied some of these long time favourites and so have been forced to do some more exploration to find alternatives and we have found some absolute crackers! We have been out and about in the Trough of Bowland, up in the Pennines and in some of the lesser known spots in Lancashire. Healey Dell is clearly not unknown, we were by no means on our own, but it is a stunningly beautiful spot on the outskirts of Rochdale which is not only scenic but has a fascinating history.
Healey Dell itself is a local nature reserve centred around the steep sided, heavily wooded valley carved out by the River Spodden. There is a walking track along the route of an old railway which crosses a spectacular viaduct over one hundred foot above the river and with stunning woodland vistas. The whole area is rich in industrial history with the ruins of an old munitions factory near the tea rooms and a history of milling dating back substantially further. We made our way through the beautiful mixed woodland alive with birdsong and up the steepish hill to Smallshaw Farm and the tiny hamlet of Catley Lane Head. A small commemorative plaque detailed the support shown by Lancashire Cotton mill workers for the Unionist cause in the American Civil War. With a blue sky overhead, a gentle breeze and Swifts and Swallows soaring and wheeling overhead we climbed gently up to the Bottom of Rooley Moor past a number of ramshackle smallholdings and with far reaching views back to Rochdale and as far as Manchester and the Dark Peak in the distance. It was a perfect day for walking and as we crossed Forsyth Brow above the chain of reservoirs running up Naden Dean we saw Meadow Pippits, Skylarks and a couple of Small Heath butterflies, even better we saw almost nobody else bar a couple of silhouetted mountain bikers on the horizon. A rough tramp up between Top of Pike (actual name) and Windy Hillock bought us out at the Rooley Moor Brow ruins where we stopped for a coffee and some gentle contemplation of the landscape.
Leaving the ruins behind we headed South on the Cotton Famine Road. The road, which is purported to be one of the highest in England, was built during the so called "cotton famine" caused by the American Civil War when the cotton being produced by the slave owning Confederacy was blockaded causing great hardship in Manchester (nicknamed Cottonopolis) and the surrounding mill towns. The council of Rochdale tasked unemployed local workers with building this road and over 300,000 cobbled setts were laid on it's completion. It's an interesting bit of history and fitting that it should be associated with Rochdale, a town now probably best known for the founding of the modern Co-Operative movement. We left the cobbles and dropped down an old quarry tramway to another picturesque hamlet, Prickshaw, once home to a community of cotton carders, weavers and miners, and now (probably) inhabited by IT professionals and solicitors 😉 From there we dropped back onto the old railway line before retracing our steps back through the verdant woodland to the Dell.
A beautiful walk full of natural and industrial history and one we almost certainly wouldn't have discovered without the current situation. Every cloud has a Silver lining!