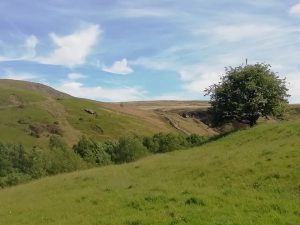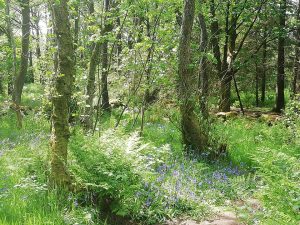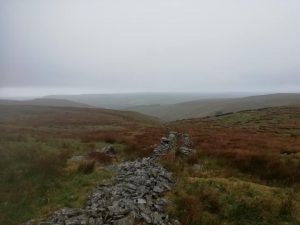 I don't know about anybody else but here at Come walk with me UK we have been starting to develop signs of Cabin Fever lately. It's not that we haven't enjoyed some fantastic local walks, we have discovered a lot of beautiful places on our doorstep, but lately the urge to spread our wings a little has been growing ever stronger so when the government changed it's guidance to allow travel for exercise we got out our maps and set our alarm clocks so we had the best chance of a socially distanced walk that didn't start from our front door. We managed two over the Bank Holiday weekend, both brand new ones and neither crowded…..mission accomplished!
Walk one started from Waterfoot in the Rossendale Valley and saw us starting with a stiff climb out of the town and up onto the exposed moorland of Cowpe Lowe wreathed in grey cloud and buffeted by string winds. A broad flat track took us along Foe Edge and past Waugh's Well, named for local Lancashire dialect poet Edwin Waugh who stayed at the now demolished farm nearby. The well sits prettily above Scout Moor reservoir but just after it we struck off across pathless moorland through the clouds until we emerged in the centre of Cragg Quarry. It's a huge quarry that is slowly returning to nature and even during lockdown appeared to be popular with mountain and dirt bikers, both of whom were out in numbers. We passed above Cowpe Reservoir, and had good views of Skylarks and Meadow Pipits as well as a single Wheatear, then dropped across more open moorland to another large quarry with extensive biking course, before dropping back down into the Rossendale Valley at Stacksteads and meandering back along the valley floor to the car where we completed our picnic!
Bank Holiday Monday and the clearest of blue skies, another challenge, trying to find a localish walk that wouldn't be swamped with other people. A perusal of the map and we settled on Brinscall near Chorley as the starting point for our afternoon dander. We climbed out of the village and into the mixed woodland of the Wheelton Plantation, a beautiful patch of Oak, Pine, Birch, Bluebells and Brambles. The sunlight through the canopy created beautiful puddles of light that attracted Orange Tip and Green Veined White butterflies and we saw our first Blackcaps of the year and heard our first Cuckoo. Whilst the Bluebells were past their best, there were still pools of vibrant colour dotted throughout the woodland. We emerged on The Goit and followed it's course for twenty minutes or so before a circuit past Tootals Farm bought us back on ourselves and we headed along the old railway line back into the village.
It is going to be a while before we get back to normal as a society and us, in the outdoor industry, have to play a responsible part in this. It is natural that people want to get out and about after lockdown but it needs to be done in a sensible and measured way, the scenes around Dove Dale this weekend are a little scary. Not only would social distancing be impossible, but would it really be enjoyable sharing a small, crowded patch with hundreds of other people? We are itching to start work again, but being realistic I am not sure we will be able to do much in 2020, however we are happy to help with ideas if you fancy a wander somewhere a bit quieter, so please feel free to stay in touch. We are always here for you!