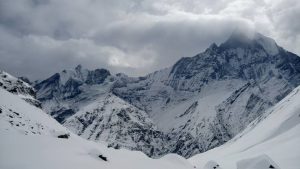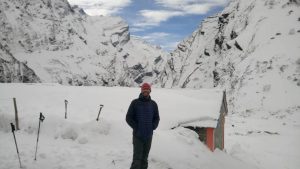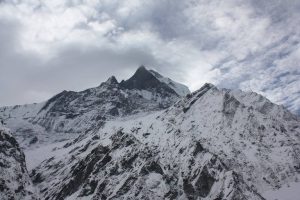 It might seem strange to choose a mountain that has never officially been climbed as one of our favourites, but, for me, this little added mystique makes this spectacular mountain all the more worthy of inclusion in our favourites list.
Machhapuchare, which is also more popularly known as The Fishtail Mountain because of it's distinctive shape in profile, sits in the Annapurna Sanctuary region of the Nepalese Himalaya, one of the most spectacular mountain regions in the world. At 6993 metres, it's smaller than many of the other peaks in the massif but in my opinion it's the most beautiful. No permits to climb the mountain have ever officially being issued and the only confirmed attempt on the peak was in 1957 when Wilfred Noyce and A.D.M Cox climbed to within 150 metres of the summit. The expedition had given their word to the Nepalese King, Mahendra, that they wouldn't summit as the mountain had been decreed a sacred peak. There were reports in the early 1980s that Bill Denz, a climber from New Zealand, had made an illegal attempt, but he was killed in an avalanche in 1983 and this has never been officially substantiated.
My experience with this unique mountain came during my trek to Annapurna Base Camp in 2017. The trek is one of the most memorable experiences of my life, the astounding scenery, the tea houses, the buffalo momos, the frozen toilets and the lemon, honey and ginger tea are all indelibly inked on my mind and yet it is the views of Machhapuchare which stand above everything else. I stayed at Machhapuchare Base Camp for two nights as my planned trek to my final goal at the foot of Annapurna 1 was delayed by a snowstorm. Hunkered down in the freezing tea house, wrapped in multiple layers, sipping tea (and the occasional medicinal shot of Kukri whisky) I felt like a proper explorer. Every so often the storm abated and the twin peaks of Fishtail swam into view before the clouds swirled around them and they were gone once more. The next morning dawned clear and revealed the mountain in all it's splendour, truly one of the memories I will carry with me for the rest of my life.
Mountain climbing and trekking can sometimes end up being all about the goal and the journey gets lost in the effort to reach the top, tick the box or add a summit to the collection. There is something refreshing and powerful about a peak that has not (officially at least) submitted to humans and sits there proud and aloof. A reminder that the world and it's natural glories are not there to be defined or categorised by us but exist regardless of us and are all the better for it.