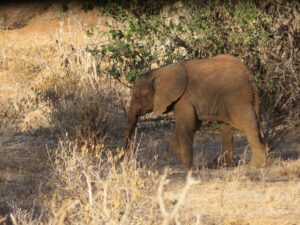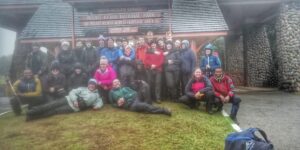 I am sat perched on a rock under a star spangled African sky, the air is cool now the sun has dropped behind the distant range of hills separated by an acacia studded red earth plain. I can see the flickering tongues of flame of the campfire and somewhere in the distance I can hear the anthem of all Camps international's East African volunteers "Jambo, Jambo, Bwana". It has been three Covid ravaged years since we have been on a Summer expedition and it feels good to be back.
Kenya 2022 was an epic trip with a motivated, mature and hard working team and it was wonderful to be reunited with friends in country whom I hadn't seen for over three years. Having previously concentrated on the Tsavo area of Kenya this lengthier expedition was a real opportunity to explore a much greater part of the country and to experience the regional diversity in terms of culture and landscape. Tsavo is still a real jewel in the crown though. It is the Africa of imagination, the earth is brick red, Acacia dot the scrub, Goats roam free and primary school kids in smart uniforms wave manically whenever we pass. We hike in the Marungu Hills, do a morning of Goat deworming in the community, work on construction projects at the local Primary School and spend an afternoon with the local Women's Group making beadwork bracelets and paper from Elephant poo. Tsavo wouldn't be Tsavo without a safari and we are blessed with a good one. We saw enormous numbers of Elephants and Giraffe, herds of Zebra and Buffalo and Impala, not to mention Baboons, Vervet Monkey, Warthogs and Gazelle. Best of all though are two young male Lions sat under a shady tree watching the herbivores as they throng around the watering holes, more than vital than ever in this drought ridden land.
We travel down to the South coast and spend a view days in Diani Beach, a tourist Paradise where the Indian Ocean washes up on a white sand beach fringed by coconut palms. Not far from there is Muhaka, our second main camp. It's very different from Tsavo, it's in the village which makes it easy to meet up with locals to play rain lashed football matches with. It is green and lush and tropical. Papaya and Coconut and Banana grow in abundance, and with the rain we experience here we can see why the crops grow so well. We work hard building a mud brick house for an elderly woman, it is satisfying work and made better by the way the team work together and support one another. We walk in ancient forests here, home to Bush Babies and Tortoises and we visit Mr Ali, a local "medicine man" who tells us of his work in curing those possessed by evil spirits. Inevitably, as with almost everything in Kenya, it ends with music and dancing! We make our own Chapatis and coconut rice and watch staff shinning effortlessly up ten metre coconut palms to chop down the fresh nuts for us to drink the coconut water. It's a hard place to leave.
The approach to Athi River is not particularly promising as we leave the main Nairobi highway next to a huge electricity sub station and bush bash for half an hour until we reach the camp. At night though we hear Lions roar and Hyena cackling and on my morning sweep around the electric fence that surrounds us I find a tree full of White backed Vultures. Monkeys pull washing off the line and Safari Ants march in huge armies through the scrub. We undertake a walking safari, setting camera traps, on our way to the watering hole we see Gnu and Ostrich and huge numbers of Marabou Storks but the highlight is on our way back to camp when we see a Crocodile basking on the far side of the river. When we retrieve the traps we are delighted to find a Black Rhino caught on the camera, confirming the tracks and spoor we'd seen the day before. Our last stop was in the North staying with the Rift Valley Adventures team and hiking on Mount Kenya. As a team it's a magnificent effort but poor weather and fatigue mean we don't reach Point Lenana, turning around in the snowy night at 4500 metres. The trek is an incredible adventure and the Mackinder Valley is surely one of the most beautiful and unusual landscapes I have ever come across. The Giant Lobelias, rocky outcrops, inquisitive Hyraxes and swirling clouds make the landscape feel almost prehistoric. It is an epic way to finish a trip.
What does Kenya mean to me after this trip, what parts of it and memories do I carry home with me; It means huge, lumbering cement trucks on the Mombasa Highway, it means Beans and Chapati, it means red dirt roads and sun baked land, thorn trees and Marabou Storks, it means micro-commerce happening at every crossroads, Lions yawning under trees and Elephants leading babies across the plains. It means the 4am call to prayer, football on rain soaked mud, "Jambo bwana" in every camp and around campfires, Maasai warriors leaping and smiling, clouds swirling around the summits of Mount Kenya and walking to my tent under a star filled sky with the Milky Way smeared across the darkness. It means sunsets from Tsavo, kids rugby tackling goats, safari trucks, Lion roars at night, white sandy beaches with crashing surf, huge electoral posters everywhere we went and mud brick houses with coconut frond roofs. It's a wonderful country and this was a wonderful trip.