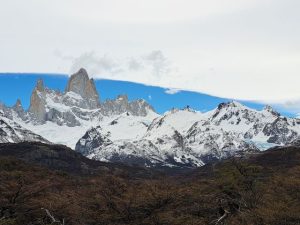 El Chalten styles itself as the walking capital of Argentina, a title that was just too enticing to resist, so after our epic Torres del Paine trek we headed to this beautiful, mountain ringed town via the very efficient cross-border coach. The town has something of a Wild West feel to it with only the main streets paved and an eclectic mixture of buildings springing up around the outskirts. We arrived in El Chalten with me suffering with back trouble and Thalia's knee still not 100% so we decided to restrict ourselves to some of the shorter walks and I was worried that would mean missing out on some of the scenery the area is famous for. I couldn't have been more wrong.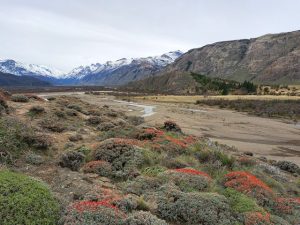 Day one we decided on the Chorillo Del Salto walk, a relatively low level stroll along a river valley to a famous, and as it turned out, popular waterfall. The walk took us through beautiful woodland of Nires trees and along a narrow path that hugged the cliffs affording great views of the winding Rio del las Vueltas, just as we were about to drop down to the rough track that doubles as the main road in this part of the world, three enormous Andean Condors soared directly above us close enough to look them directly in the beady eye, it was quite breathtaking. We continued on under perfect blue skies through more woodland dotted with green buds just starting to come to life and full of singing birds flitting from tree to tree. The falls themselves tumble twenty metres down into a shady plunge pool and although they were busy with visitors they were very beautiful and well worth the effort to reach. The return took us aback along the same route to the head of Avenue San Martin where there was a conveniently placed pub with a fantastic view and some excellent local beer to slake our thirst. Day one might only have been a gentle stroll but we were already beginning to see how El Chalten had earned it's name and reputation.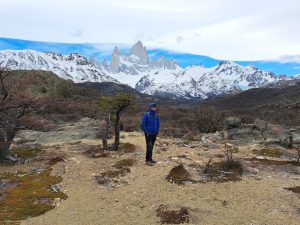 Day two. With the back starting to feel a little better thanks to a cortisone shot from the local clinic who were fantastically helpful, we decided to try and be a little more adventurous and head up to Laguna Capri hoping to take in views of Fitzroy, one of the most famous peaks in the region. We started from the same point as the previous day at the end of Avenue San Martin but were climbing immediately up through more forest where we got some great views of Austral Parakeets, some of the most Southerly members of the Parrot family in the world. It was to prove a good day for birds and as well as more views of Condors we saw Magellanic Woodpeckers, Chilean Flickers and any number off smaller birds flitting in and about the forest. The path climbed steadily through the woods before emerging beneath a cliff for more superb views and our first peek at Fitzroy, just emerging above the rocks in the distance. We passed the Yareta bushes full of beautiful bright red flowers as we continued to climb before emerging from another patch of woodland to one of the most spectacular views of a mountain I can ever remember anywhere. The whole of the Fitzroy massif lay in front of us, the peaks clear against the narrowest band of cerulean sky, which when topped by a smooth line of cloud made for the disconcerting effect that the mountain had just been painted on this perfect background, it was truly breathtaking. The views of Fitzroy continued to be awe inspiring as we continued round to the shores of Laguna Capri, a hill ringed lake with small, scruffy beaches and wind whipped white horses dancing across it's surface. There is a very basic campsite there and it would be a wonderful place to camp but we continued on and enjoyed our slow descent back to the route which led us back down to El Chalten and two enormous plates of beef and lamb to restore our stamina after a truly spectacular day.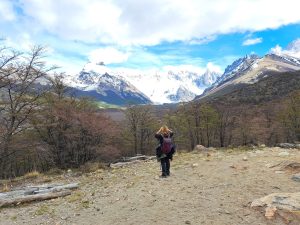 Day 3. I could have stayed in El Chalten indefinitely, if not forever, but the configuration of buses back to Chile meant our stay was curtailed. We managed to book an evening bus back to El Calafate which gave us the chance for a final walk and what a walk it was. We left directly from the hostel and headed off the dirt road before climbing gradually to a great viewpoint above the Fitzroy River Canyon and a little further on the Cascada Margarita. The walking was pleasant and pretty easy although there were a few steps and undulations but we made good progress stopping once again to watch Condors and Woodpeckers and take in the increasingly spectacular mountain panorama in front of us. Eventually we reached the Mirador del Torre (Viewpoint of the towers). In a trip full of spectacular views this was the equal of any that we saw with the full Adela Range, Mount Torre and the famous granite needles all sitting in bright sunlight and looking beautiful. We retraced our steps slowly and reluctantly stopping for lunch on a rocky outcrop above the canyon before finally heading back into town and making our way back to the bus station.
The walking that we did in El Chalten was truly special. With a bit more luck in the back department there are some longer treks and some overnight camping that sounds very exciting but we were blessed with incredible views and some brilliant wildlife encounters. The trails were moderately busy, but not so much that it spoiled our enjoyment. The walking is non-technical and I would highly recommedn it to anyone visiting Patagonia.