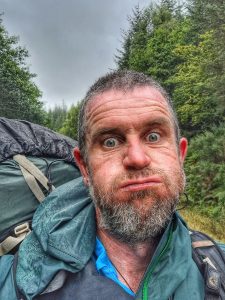 Having walked the West Highland Way with a Thistle Trekking team last week, I had decided to try and continue along the Great Glen Way to Inverness before meeting another team to walk the Affric Kintail Way. It made sense to me, linked the two routes nicely, and would allow me a little time to myself to reflect and be in nature without the responsibility of managing a group. I spent a very convivial evening in Inverness with a friend I hadn't seen for a quarter of a century and when I woke up on the Monday planning to get my bus to Fort William something didn't feel quite right and it wasn't just the hangover. Over the years I have suffered a bit with depression, low mood and general feelings of low self worth, but in recent years I felt confident I had moved passed this. I have a wonderful relationship, I have a job that is challenging but immensely rewarding, I have a great group of friends and my life feels well balanced, but on this occasion my head wasn't feeling quite right. It is always a difficult time of year, the anniversary of my Mum's death falls on the 25th of August and my Dad has been in hospital for a fortnight, all these things were weighing heavily on me. My knee was injured in October last year and I am in the middle of what I am told is a 62 week wait before I have any chance of receiving treatment. In spite of this I felt confident that when I started walking I would feel better, nature and walking have often been the best medicine for me and I hoped that this would be the case again.
I set out from Fort William feeling positive in spite of the rain and wind that battered me as I made my way along the beach towards Corpach and the Caledonian Canal. I passed the incredible engineering feat of Neptune's Staircase where eight locks climb twenty metres, in a series of stepped locks. I watched Cormorants on the water, saw incredible purple swathes of Heather painted across the hillside and snacked on blackberries as I made my way along. But, still something wasn't right. My knee was starting to play up, my foot was sore, but the nagging voice in my head had started to tell me I had been stupid and made a big mistake. A flock of Firecrests in the fir trees beyond Gairlochy lifted my spirits again as did the atmospheric cloud sat above Loch Lochy but by now my limp was pronounced and as the rain fell again I found myself feeling very alone and very low. A detour that necessitated a steep climb not long before my destination pretty much reduced me to tears before I eventually hobbled, bedraggled into Laggan Lochs. There were three other campers already there, girls of university age. We chatted and during the chat one of the other walkers hinted at the positive mental health benefits that walking had had for them. I replied that that had always been the case for me too and it began to dawn on me that this particular walk was having the very opposite effect on how I felt. If I had been leading a client and I had seen them in the same physical and mental condition that I was in I would certainly have stopped the walk, so why did I feel so guilty about doing the same thing for myself? I was loathe to make any decisions whilst feeling in such an emotional state but I had another walk booked in at the weekend and needed to make some decisions when the balance of my mind was less disturbed.
I cooked some tea, took painkillers and crawled into my tent. The next morning after coffee and porridge I was on the bus back North to Inverness where I picked up my car and drove the eight hours back to Manchester. I spoke to Davey at Thistle Trekking and Harry who would be working with me and we agreed to swap roles. I could drive the van with a sore knee and Harry, kindly, could take over the walking duties. Nobody would be let down or miss out. As a society we frequently talk about toughing it out, we rarely talk about being kind to ourselves. In my role as Mountain Leader I have responsibility for the health, well being and enjoyment of large groups of people often at the very edge of their comfort zone. I take that responsibility hugely seriously, so why did I find it so hard to do the same for myself? I haven't quite worked that out yet. When a team I was working with didn't summit Mount Kenya due to challenging weather and physical issues, I didn't consider it a failure. So, why did I think I had failed on the Great Glen Way? Well, I don't feel that now. It would have been a failure of common sense and professional judgement to have continued on and would have had repercussions on work I had planned for other people. It was the right decision to make. The Great Glen Way isn't going anywhere. My knee is still sore and my head isn't quite right just yet but it is certainly going in the right direction after a few days back at home with Thalia and seeing some good friends who have made me feel valued. I still firmly believe nature and walking are my best medicine but I am learning now to listen to the voices in my head and to prioritise my self care, because unless I look after myself how can I be expected to look after anybody else.