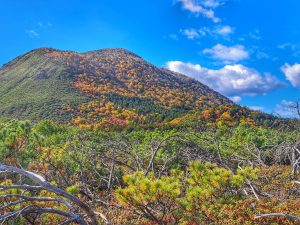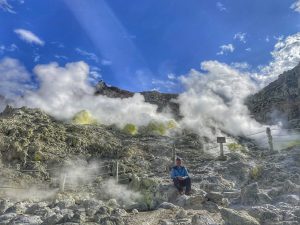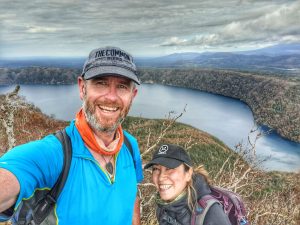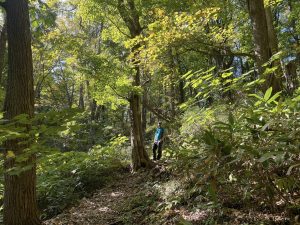 I have to admit that when I first thought about visiting Japan I had very little idea that there was so much fantastic hiking. My mind was filled with Bladerunner-esque visions of Tokyo or images of demure Geisha treading the lantern lit streets of Kyoto. Thalia and I however ended up watching a programme with Joanna Lumley where she visited the island of Hokkaido, the wild and untouched far North of the country. It lit a fire in us and Hokkaido became a key part of our trip to Japan and in particular we were very keen to try and see the Red Crowned Cranes that featured so prominently in the documentary.
We had already had a good, if soggy, day of walking around Jigokudani Snow Monkey Park where we saw huge numbers of Japanese Macaques enjoying their hot baths and a very distant view of a Black Bear across the valley, my first ever view of a wild bear. The walk from the Park back down to the pretty village of Shibu Onsen was much improved by a hot coffee and a delicious turnover made from locally grown apples. The paths were well maintained and signposted and when we reached the quiet, narrow streets of the village we were able to utilise a free hot spring footbath, a great way to end any walk. From Shibu Onsen we continued our journey North to Hokkaido on the fantastic Japanese rail system and passed through Hakodate before spending a couple of nights in Sapporo, the fifth largest city in the country and by far the largest on Hokkaido. Sapporo is best known for brewing and nightlife but a mere twenty minutes on the underground from the city centre sits Mount Moiwa, a 531m tall forested hill with spectacular views. Something we hadn't known before we started seriously looking into Japanese hikes was that Hokkaido is home to a large population of Brown Bears (basically Japanese Grizzlies). Even in an urban area like Sapporo there have been bear reports and we had decided to double up with a bear spray canister and the ubiquitous bear bell beloved of almost all Japanese hikers. Regardless of efficacy packing these pieces of kit made us feel a little more secure as we plunged onto the forested trail. It was clearly a popular trail and we met a number of elderly, fit, cheerful hikers on whom to practice our Japanese on. The trees were just starting to turn Autumnal and the views across the city were amazing, showing just how sprawling Sapporo is. We saw Japanese Squirrels and passed an increasing number of shrines tucked into nooks in the wood before we emerged at the summit viewing platform complete with (very welcome) cafe, gift shop and panoramic views. The descent was a bit of a knee cruncher but dropped us back down to the affluent suburb of Asahiyama from where we returned to the bright lights and flesh palaces of the Suskino district. It was a beautiful hike and whilst not really a wilderness adventure it had whetted our appetite for further adventures to come.
We left Sapporo and headed East to the town of Kushiro where we had hired a car to do some exploring of the wildlife and natural attractions in the area. Our first day saw us head to the Kushiro Shitsugen National Park where we were hoping to see the Cranes that had inspired our visit. After a pleasant stroll through more woodland we came out at a viewing platform where the land in front of us dropped and stretched away to the horizon looking more like an African savannah than the landscape of Japan that I had imagined. Deer wandered across the marshy trails and Kites soared overhead before we spotted in the distance through our binoculars two Red Crowned Cranes! Knowing that we were in the region a bit earlier than Joanna had been we'd been managing expectations but were elated at our "twitch". About half an hour later we were pulled over on the roadside watching around thirty magnificent Cranes including young as they danced, fought and bickered….it was a truly memorable moment, very, very special. We carried on to Lake Akan, one of the eponymous bodies of water that make up the Akan-Mashu National Park. The small town is one of the strongholds of Ainu culture in Japan (albeit in a slightly touristy manner) and after a browse of the many souvenir shops we took a lovely woodland walk through Autumnal woodland to the sulphurous thermal mud pools and then back along the lakeshore watching Mergansers bobbing and diving on the waters.
The next day was our big walk day. We'd used the excellent resources from the Hokkaido Wilds website (www.hokkaidowilds.org) and after signing the hikers log at the start of the trail we set off on the fourteen kilometre round trip to the 857 metre peak. It was a beautiful walk starting through scrubby bamboo before climbing through gnarled woodland and opening out to beautiful vistas of Autumn colours and many, many more distant peaks. The views of the Hokkaido countryside, Lake Mashu and our eventual summit goal were stunning and we barely saw another soul on the trail, it was a really magical walk. Despite our nerves about Bears the wildlife we saw was pretty friendly with Japanese Chipmunks, Flying Squirrels and Large Billed Crows to the fore. The last kilometre was pretty much straight up but we scrambled our way up to the stunning summit for spectacular 360 degree views, a really special moment. We returned the same way and almost beat the rain on our way back to the car before heading to a beautiful, free, secret onsen to soak in the hot springs with a view of mountains and Whooper Swans to end our day. We still had time to fit in one more walk, so the next morning we headed off to Mount Io, a still active volcano belching eggy fumes through Sulphur stained fumaroles. We headed off on the Tsutsujigahara Nature Trail, a beautiful trail that took us through a varied landscape of Japanese Stone Pines and Labrador Tea plants before we moved through some stunning Autumn woodland (and found a huge lump of Bear poo) to reach the lovely Kawayu Eco-Museum where we learned a lot about the local area and enjoyed a brew with a view. It was a beautiful, peaceful, quiet walk to finish an amazing adventure in Hokkaido. We didn't even begin to scratch the surface of hiking in Japan but we did more than enough to whet our appetite to head back again in the future to this amazing country.