24-30.4.17
Walking with; Jay, Iona, Hamish and Downend School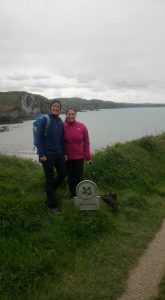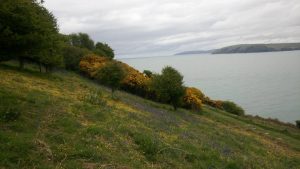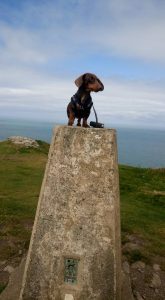 This is now (unbelievably) the fourth year of Come walk with me UK and I am delighted to say that we have managed to get busier year on year thanks to the high standard of service we provide for our customers whether working as a freelancer or guiding for our own clients. One of the genuine pleasures for me is that the work is so varied and we get to meet so many different people of all ages, backgrounds, nationalities and levels of experience that things never get boring and this week has been a perfect case in point!
I started the week at Standon Bowers Outdoor Education Centre in the heart of the beautiful Staffordshire countryside. The building was established in 1885 as Stadon Boys Farm Home by the memorably named Waifs and Strays Society. It was used to provide "industrial training" for boys sent to the centre by magistrates and the farm was spread over more than fifty acres. The children who visit it now do so not at the order of a magistrate but to enjoy the wide range of outdoor activities offered there by Entrust. Over the two days I worked there this week we built bridges over slimy swamps, scrambled over cargo nets and carried buckets of water round assault courses, lit fires with flint and steels and then toasted marshmallows and built rafts of varying degrees of buoyancy!! All this in and amongst flurries of unseasonal snow!! I am looking forward to heading back next week for more of the same!
Leaving Staffordshire on Wednesday evening it was a cross country drive along the glorious countryside of the England/Wales border and then on through the Brecon Beacons to the tiny village of Llanybri where I was meeting Jay, Iona and Hamish the Daschund. Jay and Iona have long been supporters of Come walk with me UK and we have done some great walks together but with Hamish only being blessed with wee legs they had asked us to find something Daschund friendly for them. We decided on Dinas Island, that magnificent promontory jutting out of the Pembrokeshire coastline towards Ireland. The Gorse was in bloom, the Bluebells were out and there were rafts of Guillemots on the sea as we made our way upto the trig point at Dinas Head where Hamish posed atop the marker. Leaving the highest point we descended down to Cwm yr Eglwys beach with it's atmospheric graveyard and the remains of the church, the rest of which fell into the sea during an infamous storm in the nineteenth century. It's a beautiful spot with it's own ice cream van (I recommend th rum and raisin) and we had it pretty much to ourselves. The rest of the day was spent enjoying local ales in Llansteffan and eating a Thai takeaway in front of he log burner!
After the girls and Hamish had headed off I spent the morning visiting the wild, abandoned ruins of Llansteffan church perched on a headland with stunning estuary views and surrounded by woodland redolent with the smell of wild garlic, before heading over to Laugharne (home of another impressive castle) where I visited Dylan Thomas's boathouse and promised that I would "not go gentle into that good night" as I absorbed the atmosphere and view that meant so much to one of Wales's most revered poets. I then headed down to Cheddar where I was working with BXM expeditions and Downend School on their D of E Bronze practice. Over a couple of challenging days the students honed their navigation skills, learned how to put up tents, cooked pasta, rice and porridge with varying levels of success and experienced the reality of what they had let themselves in for on their expedition. It's a very pretty part of the world and somewhere I was not familiar with prior to this weekend. Cheddar and the surrounding area are definitely places that will bear further examination in the future!