21.05.12
Walking with; Nobody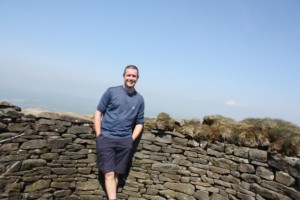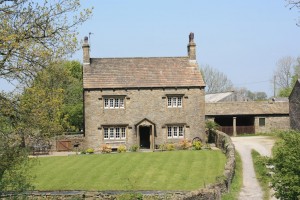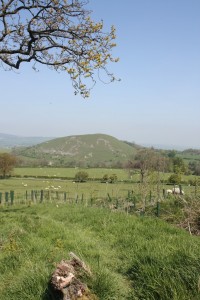 Pendle, old Pendle, thou standest alone.
Twixt Burnley and Clitheroe, Whalley and Colne,
Where Hodder and Ribble's fair waters do meet
With Barley and Downham content at thy feet
Pendle Hill truly does stand alone, an imposing monolith towering over the impossibly picturesque village of Downham. For all the associations with witches and the supernatural (http://www.pendlewitches.co.uk/), in the bright and glorious sunshine of an unseasonably warm May morning Pendle Hill sat like a benign giant and off I set. The path from Downham took me across farmland passing wooded glades filled with Bluebells and Wild Garlic. Passing under Worsaw Hill I followed a brook along as far as Worston where there were some beautiful cottages and plenty more Wild Garlic and Cow Parsley. I followed the narrow lane, encountering no traffic and plenty more wildflowers including Forget-me-not and Rose Bay Willowherb, before striking off onto the lower slopes of Pendle Moor and climbing very steeply (and sweatily) to a fine vantage (and resting) point. Pendle Moor acts as a plateau and after following a stream for a while the path climbed steeply again towards a cairn on the edge of the broad, fairly featureless summit. Pendle Hill is well known for difficult navigation in tricky conditions but today with not a cloud in the sky, the whole summit plateau spread out before me, as did spectacular, if slightly hazy, views back into the Ribble Valley. I passed the Scout Cairn and continued on across moorland with not a soul in sight until I reached the stone wind shelter and decided that it offered a modicum of shade and would make a decent spot for lunch accompanied by Skylark, Curlew and Meadow Pippit.
Fuelled by cheese and my Granny's excellent Green Tomato chutney I crossed the boggy plateau and headed to the summit. The summit, on the Barley side, was much busier with a couple of groups enjoying the views over the Black Moss reservoirs, so I didn't stay long but retraced my steps back towards the open land before striking off on a descending track above Downham Moor. It was easy, but warm, walking and as I crossed the moor there were plenty of lambs and sheep but not many people even on such a spectacular day. The path continued down through farmland before following the stream back into Downham passing many more beautiful cottages.
Downham is part of the estate of the Assheton family and is reckoned by many to be the prettiest village in Lancashire with no phone lines, electrical lines or satellite dishes, giving it a olde world charm that the pub and tea rooms trade on (and judging by their business do very well from……). The Assheton family have owned the manor since 1588 and have a small private chapel in St Leonard's Church as well as several stained glass windows dedicated to various of their clan. It's unspoilt nature makes it popular with TV and film crews and "Whistle Down the Wind" was mostly shot in the area, as well as, more recently, the TV series Born and Bred. After a wander round the church and graveyard I refreshed myself with a coffee in the sunshine and basked not only in the sun, but in the reflected glory of conquering Old Pendle!