22.6.12
Walking with; Ruthy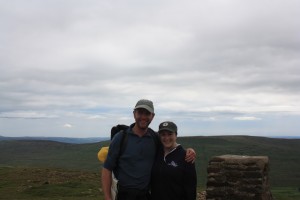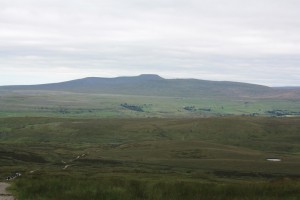 A couple of years ago Ruthy and I visited the Yorkshire Dales staying at the fantastic "Game Cock Inn" in Austwick (http://www.gamecockinn.co.uk/), fuelled by French food and Yorkshire bitter we ascended Ingleborough in the snow and sleet and I decided that she was the girl for me. Later on, with another pint in front of the fire I asked her to marry me! Last weekend was our first Wedding anniversary and we stayed once again in this fantastic pub and decided to try and conquer another of the Yorkshire Three Peaks, Pen-Y-Ghent this time. Whilst Pen-Y-Ghent is the lowest of the three, it is an impressive looking lump of rock when viewed from the tables outside the legendary cafe in Horton in Ribblesdale. The Celtic sounding name appears to be a bit of mystery with some people ascribing it to ancient Cumbric whilst others back a Welsh interpretation meaning "Hill of the Winds", given the conditions on the top I am prepared to favour the latter!
We decided to take the anti-clockwise route gradually climbing from Brackenbottom Farm until we reached Brackenbottom Scar where the full imposing splendour of the hill really became evident.We continued to ascend with spectacular clear views to Ingleborough and Whernside and of lonely windswept farms perched on the moorland below. The scramble to the summit was made a little trickier by the buffeting wind but it seemed to be those coming down who were finding the route more difficult and we were soon walking over the brow to the Trig Point on the summit which was pretty busy with people enjoying the rare day of sunshine.
The descent follows The Pennine Way and drops down quite steeply through moorland with views of Hull Pot (a gaping hole in the earth), flocks of Jackdaws and the rare Purple Saxifrage that is found in abundance on the slopes of this hill. As the path levelled out, we admired the views back to Pen-Y-Ghent and watched a waterfall crashing down in another limestone scar. It wasn't long before we were making our way back into Horton with two Yorkshire Peaks under our belt and making the decision to schedule in another trip to Austwick and give us a crack at the third and final one of the challenge!
To view the full album please click on the link below;
https://www.facebook.com/media/set/?id=718985691&tid=136991043086476&skipClustering=false&qn=1343292443&success=16&failure=0&set=oa.252632414855671