25.7.12
Walking with; Nobody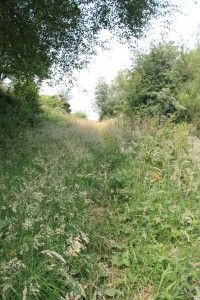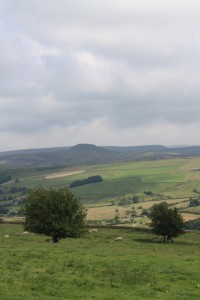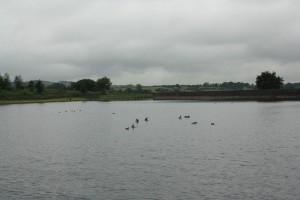 The bucolic pastoral landscape of Cheshire farming country seemed like it might be the place to stretch the legs on a lazy Wednesday with the sun shining and not much else going on and so I headed off to beautiful Ridgegate Reservoir sitting in the shadow of Tegg's Nose. There were a lot of wildfowl on the water, Tufted Ducks, Great Crested Grebe, Canada Geese and just before I arrived a deer crossed the road at some speed in front of me! I decided to strike out along a section of The Gritstone Trail and it got me thinking. A couple of years ago I walked the Wainwright's Coast to Coast, it took two weeks with tent and all kit on my back and it was one of the most satisfying challenges I've undertaken. It was much more satisfying though for being completed in one go and made me identify much more strongly with Munro baggers and their ilk whom I'd previously not really understood. Now I have walked most sections of The Gritstone but I would never consider myself to have completed it unless I did it in one go…….Still, I digress……..
Walking through the countryside I found myself thinking that, as on previous occasions, in this part of the world there seems to be a very real difficulty in accommodating the needs of walkers and those of farmers. The track was already quite overgrown, but in a number of places the path had been chewed to pieces by dairy herds and in damper conditions would probably have been impassable. It's a tricky issue and not one I have a ready answer for but it seems particularly prevalent in this part of the world (https://www.comewalkwithmeuk.co.uk/2012/03/mud-mud-not-so-glorious-mud-round-alderley-edge.html.) Passing through a couple of hamlets I diverted from The Gritstone onto the bridleway along Rossen Clough which was beautifuly lit in sunshine and flanked by wild flowers. Looming in the distance I could see the huge radio tower at Lingerds Farm, which whilst not exactly a beauty spot certainly ensured it was hard to get lost. As I climbed up towards the mast the views back to Tegg's Nose, Shutlingsloe and Macclesfield Forest were more than compensation for the sweat! Regaining The Gritstone I followed it along the ridge through more fields of cattle before dropping down Fox Bank. I passed over the road and headed up through hay fields where the mowing sent up clouds of insects and where I bumped into a family of Partridge fleeing ahead of the tractor, not to mention a couple of redstarts and a goldfinch! The last half mile or so took me past the magnificent (not to mention eccentric) pile at Meg Lane End and then a huge Canada Geese nursery (or goslingery) behind Mosslee Farm.
I may not have completed The Gritstone Track (as of yet) but it does provide good and varied walking and helps to showcase the diversity of the Cheshire countryside!
To view the full album, please click on the link below;
https://www.facebook.com/#!/media/set/?set=oa.254114044707508&type=1