6/7.8.12
Walking with; Nobody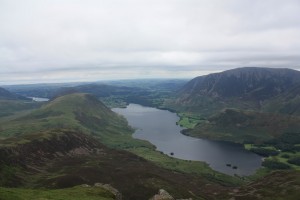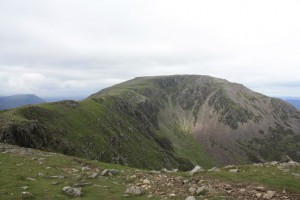 The Lake District in Summer can be a pretty horrendous place, Bowness can be akin to Blackpool and on my drive up both Ambleside and Keswick were too hectic to even consider stopping. I eventually found a spot of lunch in Cockermouth and can heartily recommend "Main Street Fisheries" for an excellent portion of fish and chips. Ennerdale however remains a relatively tranquil oasis, it's remoteness means it gets considerably less visitors than many of the other lakes and apart from a trickle of Coast to Coasters I had the place to myself for the majority of the walking.
I arrived on the Monday afternoon and parked my car outside the picturesque YHA http://www.yha.org.uk/hostel/ennerdale which is housed in an old foresters cottage a couple of miles along a dirt track and has it's own hydro-electric power supply, an excellent selection of cakes and scones and no mobile phone, reception, internet or television….all adding to the tranquility. It also has a superb view of Pillar from the breakfast room. On Day one, I contented myself with a gentle stroll along the forestry track taking in the views of Pillar, Crag Fell, Anglers Crag and Ennerdale Water. I watched a couple of Peregrines playing above the forest, snacked on billberries in the woods and listened to the distinctive "cronk" of a Raven. I found a bench to sit on and watched the shadows of the clouds flit across the hills and generally revelled in doing nothing, hearing nothing and seeing nobody……..Back to the hostel for a few pints of "Snecklifter" and a good nights sleep ahead of a slightly tougher Tuesday.
Fuelled by a cooked breakfast I set off on Tuesday morning and was soon climbing out above Ennerdale following the path of Gillflinter Beck onto the slopes of Red Pike. It was wet underfoot and there had been a number of landslides across the path so I ended up scrambling through the scree to reach White Pike before heading across the tops to Red Pike and some spectacular views over Crummock Water and a good twenty miles of visibility in all directions. The ridge stretched out ahead of me and I was soon continuing high above Bleaberry Tarn to the next peak, High Stile, where I sat and looked out over Buttermere and away in the distance to the Derwent Fells. I watched another Raven circling and chatted to a couple of girls backpacking their way over to Scafell Pike. Reluctantly leaving the view behind I struck out East along the well defined ridge to High Crag where I stopped for a sarnie with beautiful views down the valley to Ennerdale Water and watched as the clouds started to swirl around Pillar and minutes later the rain started to fall. Descending the steep flank of High Crag I was aware, for the first time today, of multi-coloured dots ascending the slopes ahead of me, it was Haystacks, beloved by Wainwright and, if Tuesday is anything to go by, large numbers of others. Wainwright wrote of Haystacks, "for beauty, variety and interesting detail, for sheer fascination and unique individuality, the summit area of Haystacks is supreme. This is in fact the best fell-top of all..", high praise indeed and whilst I might not find myself in total agreement, it is certainly a pretty spot and accessible at only 597 metres. Having made it this far I decided to carry on to Innominate Tarn where Wainwright had his ashes scattered, a site of proper pilgrimage for fans of Lakeland walking. I skirted the tarn and then made my way down a steep sheep track on Haystack's flank to Scarth Gap sandwiched between Seat and Haystacks where I followed the path down to the valley floor and watched a group of walkers working their way up to the Black Sail Hut, sitting remote at the head of the valley. The last four miles were a military yomp along the forestry track back to the YHA. The Ennerdale re-wilding project is working http://www.wildennerdale.co.uk/ and the valley floor reminds me of wild Scotland or even the South island of New Zealand with the Liza running down the middle and the lack of farming until Gillerthwaite is reached. Ennerdale is still home to Red Squirrels and Pine Martens and is a fantastic spot to get away from the hubbub of the Southern Lakes and enjoy some real solitude.
To view the full album, please click on the link below;
https://www.facebook.com/#!/media/set/?set=oa.257203821065197&type=1