14.8.12
Walking with; Ruthy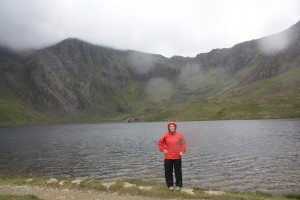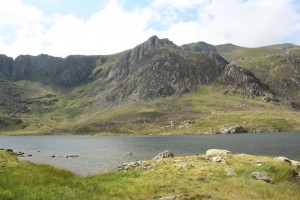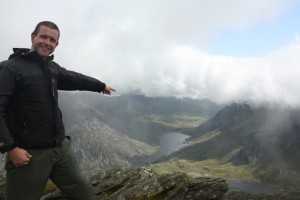 "Staycationing" this year on the Llyn Peninsula it seemed a wasted opportunity to make our way there from Manchester without having a night in Snowdonia. We had booked into Idwal Cottage YHA, the oldest hostel in Britain which opened in 1931 and is beautifully situated in the Ogwen Valley surrounded by the epic peaks of the National Park and full of climbing memorabilia.( http://www.yha.org.uk/hostel/idwal). Jeroen, the hostel manager, was a mine of information and recommended a couple of 4-5 hour walks, of which we decided on the ascent of Y Garn.
Y Garn is one of the Welsh 3000s and is ranked as the tenth highest peak in Wales at 947 metres. It rises from the basin containing the Llyn Idwal and forms part of a spectacular ridge that when we set off from the hostel was hidden in forboding cloud. Llyn Idwal is a magnificent spectacle and only a ten minute stroll from the car park, subsequently it was busy (even in the teeming rain) so we headed on up towards the slopes of scree that flanked our eventual goal. As we climbed the wind got up and whilst it pushed the clouds off the summit it made it heavy going. Frequent view stops to look back down towards Bethesda and Llyn Ogwen provided respite, as did views of Ravens surfing the thermals and photos of the Heather coming into bloom. Eventually we reached the ridge that led up to the summit and found ourselves admiring the views of Tryfan as the peak slipped in and out of the clouds, sheltering from the wind in the lee of the summit cairn and refuelling ahead of the knee crunching descent of The Devil's Kitchen.
The sun was out as we headed down the slope from the top towards the lonely tarn of Llyn Y Cwn and we started to come across a few more walkers, it seems as if the path up The Devil's Kitchen is the preferred route, although I wouldn't fancy descending the scree slopes we came up. The Devil's Kitchen is justifiably famous as a path and although hard on the knees is a spectacular descent with the whole of the Cwm Idwal stretching out below you and waterfalls crashing down the rock face. There were a group of climbers testing themselves on the exposed rockface and we saw Redstarts, Meadow Pippits and Jackdaws as we picked our way down the rocky staircase. By the time we reached Llyn Idwal, the paths were very busy and we headed back to our car and onwards to the wild, windy expanses of the Llyn Peninsula where, unfortunately, the weather prevented too much in the way of walking except for a gentle stroll along the Coastal Path from Tir Glyn to Aberdaron.
To view the full album from this walk, please click on the link below;
https://www.facebook.com/media/set/?id=718985691&tid=136991043086476&skipClustering=true&qn=1345467934&success=20&failure=0&set=oa.261525060633073#!/media/set/?set=oa.261525060633073&type=1