3.2.13
Walking with; Ruth, Emily and Roz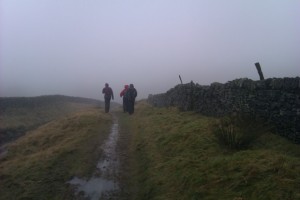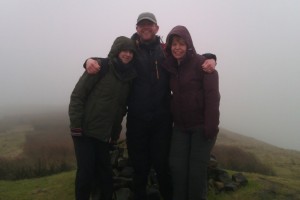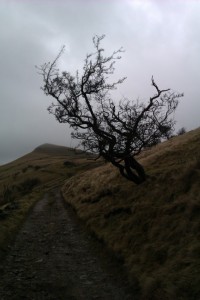 Some of the more observant amongst you may have noticed that whilst the blog is called Come walk with me, for many of my wanderings, I tend to wander alone! This is partially as a result of me generally walking during the week when other people are working and partially because I enjoy walking on my own. However, I am in the process of trying to become a Mountain Leader and that, of course, requires leading people, so many thanks to Ruthy, Emily and Roz for being willing guinea pigs in this experiment!
We set off, in pretty miserable conditions from Rushup Edge and after slipping and sliding on the first iced up half mile of the Pennine Bridleway we disappeared into thick mist. It was muddy going underfoot and the Bridleway provides the additional hazard of avoiding hurtling hordes of mountain bikers, but early progress was predominantly "head down, hoods up and aim into the wind!". After crossing the wooded stream at Bolehill Clough we descended to Roych Clough where the cloud thinned and we paused for a sandwich ahead of the climb up to South Head. The slope up to South Head is brutal and the wind on the top was gale force, but the lure of getting to the top of the highest point on the main route was too good a chance to miss and with Roz leading the way we ascended to the summit for a good view of the clouds and all cobwebs to be very decisively blown away!
We slid (literally in Ruthy's case) back down to the Bridleway and continued a gradual descent out of the clouds circumventing Mount Famine (try as I might I have been unable to find out where this name comes from) and following the paths down towards Bowden Bridge where we found a magnificent herd of Highland Cattle grazing contentedly. From there we followed the River Sett down into Hayfield for a well deserved drink at The Pack Horse. I managed not to lose or kill anyone, hopefully even imparted a little bit of knowledge and the girls all seemed to have a good time, so everyone is a winner! First of many I hope.
To view the full album, please click on the link below;
https://www.facebook.com/media/set/?set=oa.335118956607016&type=1