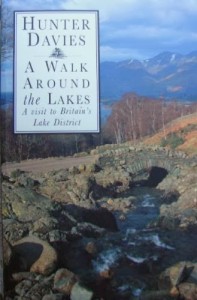 Despite being born in Scotland Hunter Davies is a Lakeland man through and through, he moved to Carlisle at the age of 11 and in addition to this wide ranging view of the Lake District he has also written a biography of the one and only Alfred Wainwright. He has a Summer home near Loweswater and the affection he feels for the area and it's history is clear in this enjoyably written study.
I initially confused the unusually monikered Hunter, with shouty TV comedy army sort, Windsor, (they both have impressive mustaches), and even once I had been alerted to the fact they were not one and the same the vein of humour running through the book is distinctly agreeable. Davies takes an unusual approach interspersing self deprecating tales of his own adventures through all the major Lakes locations; Windermere, Hawkshead, Coniston, Langdale, Grasmere et al with a literary history focusing predominantly on the poetry of Wordsworth, Southey and Coleridge. In addition to these poetic titans further tales are told of Beatrix Potter, John Peel, Thomas de Quincy (a frightful gossip by all accounts), John Ruskin and the redoubtable Canon Rawnsley, all of whom played a significant part in creating what is the modern Lake District.
In spite of his eccentric habits, he decides to walk only in wellington boots or Green Flash plimsols, Davies is an energetic and enthusiastic walker with a nice eye for the absurd and a storyteller's natural flair and rhythm. He gets lost not infrequently, mixes with Earls and commoners alike and has a knack for getting people to talk to him as a conversation rather than an interview.
Written in 1979 it is inevitable that much has changed since this book was first published and it is interesting to relate my experiences of Lakeland walking 25 years on with Davies's, particularly in areas like Ennerdale where the re-wilding project has had such an impact taking over from the heavy forestry so despised by Wainwright. None-the-less for a firm grounding in Lakeland literary history coupled with a profusion of walker's anecdotes this book is well worth digging out.