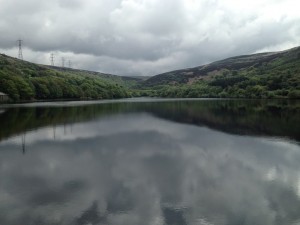 Reservoir or lakeside walking can be one of the most pleasing ways to spend an hour or two. The sound of gently lapping water, the flattish, gentle walking and perhaps some waterfowl along the way to add a little ornithological interest. In Greater Manchester and the surrounding area we are blessed with many such opportunities. There is Chorlton Water Park, beloved by fishermen and joggers. Hollingworth Lake offers fish and chips, yachting and plenty of wildlife. Dovestones reservoir has a wilder, rugged feel and Peregrines can be seen there from time to time. I'd decided to try out a route from Stalybridge that started at Walkerwood Reservoir and would lead me up onto the moors.
  I set off from the reservoir after watching Swans and Black-headed Gulls on the water. The path through the swathes of rhododendrons is muddy underfoot and I slip and slide my way towards the firmer ground of Cock Wood where I meet a fellow walker who tells me he has recently seen deer in the vicinity. I have no luck with the deer but press on to Brushes Reservoir and continue under the men working on the electricity pylons to the twin reservoirs of Swineside which sit in the heart of some beautiful Peak District moorland.
  I make my way over peat and scrubby, burned Heather and eventually attain the top of  Harridge Pike. The views from the top are impressive overlooking Manchester, a reminder that though it feels wild here, especially with the wind pushing the grey clouds towards me, this little slice of moorland is little more than a hop, skip and a jump from the city. I descend over more rough ground, picking my way through the peat hags and heather until I eventually reach the security of The Pennine Bridleway which leads me past farms, both active and eerily abandoned back towards the car and a cracking view of a pair of beautiful Tufted Ducks who put on an impressive display of dabbling and diving.
  I very much hope you enjoy reading about my walks as much as I enjoy undertaking them. If you have any questions or enquiries about either my articles or guided walking in the UK please feel free to visit my web page
www.comewalkwithmeuk.co.uk
or e-mail me at
Ian@comewalkwithmeuk.co.uk
. Liking my Facebook page or following me on twitter @cwwmuk will help you keep up to date with my latest walks and other outdoor news. In the meantime enjoy the rumblings of a rambler.
  We still have a small number of cards and calendars available. A whole years worth of beautiful images of the outdoors.