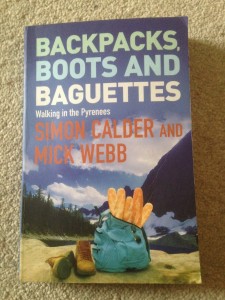 Reading about other people's walks is a bit like walking with other people, you need to be careful whom you choose as your companions. Luckily, it seems as if Simon Calder and Mick Webb would make pretty decent company on a walk and they certainly manage to provide an engaging account of their various walking adventures in the Pyrenees. The book is nominally about the two attempting to follow the trans-Pyrenean GR10 route, but the actuality involves a number of trips, taxi rides, train journeys and hitch hikes interspersed with periods of walking. In that respect this isn't a walking book as such but more of a travelogue and taken on these terms it is still well worth a read.
The chapters are written alternately and so the style varies, Webb writes in a more straightforward style, Calder rambles a little more, their writing styles seem to be reflected in their walking styles and for the sake of security it is Webb I would definitely favour as an "on the road" companion. The route stretches from the Atlantic to the Mediterranean and switches back and forward from France to Spain although these ramblers seem to prefer the French side of the mountains. The book mixes information with experience and the two are blended well in the main, but the relentlessly jocular, "what could possibly go wrong" tone does get a little repetitive after a while and herein lies the crux…..
Webb and Calder complete the walk over number of different trips and this means that the narrative can become "bitty"…..Perhaps if the walk had been done in one go (and they meet many walkers attempting just that) the sections would have been more manageable and the number of occasions they needed rescuing by passing motorists might have been fewer creating a "purer" walking book. If you are looking for a guide to the GR10 this is not the book for you, if you are looking for a personal account of a walk on the GR10 this is not the book for you, but if you are looking for two slightly bufoonish Englishmen's adventures and explorations of the area surrounding the GR10 then this may prove to be the engaging, amusing travelogue you are after!