1.7.15
Walking with; Nobody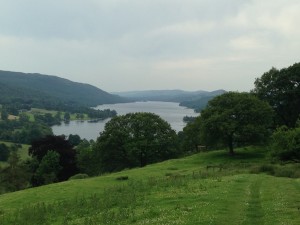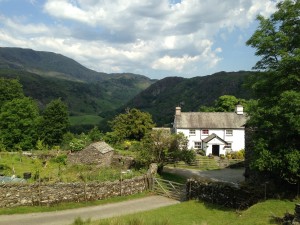 I had a new pair of boots that needed breaking in and whilst modern boots are much easier on the feet than the older models it still seemed prudent to choose something short and sweet in order to check that my feet would suit the boots. Tarn Hows is one of those iconic Lake District destinations that I felt I should have visited and the route that would take me there from the village of Coniston seemed to be one that would suit my kit testing purposes.
I left Coniston behind me, it's a beguiling village that manages to combine the prettiness that tourists associate with the Lakes with a functioning local community. My path took me across Foxglove studded farmland to the remarkable barn sized kennel that was once used to house the hunting pack of the Monk Coniston estate. With the Yewdale Fells in the distance I made my way to Tarn Hows wood where the trees were alive with small birds and the profusion of wild flowers continued. After passing idyllic white washed cottages, sheep, horses and a herd of Belted Galloway cattle I emerged in the busy National Trust carpark and made my way down to the lakeside. The tarns were artificially created by the industrialist James Garth Marshall in the nineteenth century. They were later sold to Beatrix Potter who eventually bequeathed them to the National Trust.
I decided to circumvent in an anti-clockwise direction and whilst admiring the spectacular views made my way around the path pausing to admire the water lillies and clouds reflected in the mirror like water. There were bright yellow Flag Iris and ducks on the lake, the trees were in flower and everywhere there were bees and butterflies, the whole area just felt simply alive. Eventually I met the path that led me through shaded woodland to the tumbling waters of Tom Gill. From there I retraced my footsteps before deviating onto the path that led me towards Boon Crag farm. I paused above it and admired the views along the length of Coniston Water, famous for Donald Campbell's Bluebird speed records and the disaster that ended his life. On the far shore I could see Brantwood, John Ruskin's house. Below me lay the mansion house of Monk Coniston itself, it is one of the more memorable Lake District views. I finished my descent and re-entered Coniston where the village was buzzing with coaches and daytrippers. My boots proved themselves to be an excellent buy and the walk was far better than a mere excuse for just testing them, it was a beautiful ramble through all that is best about the British countryside.